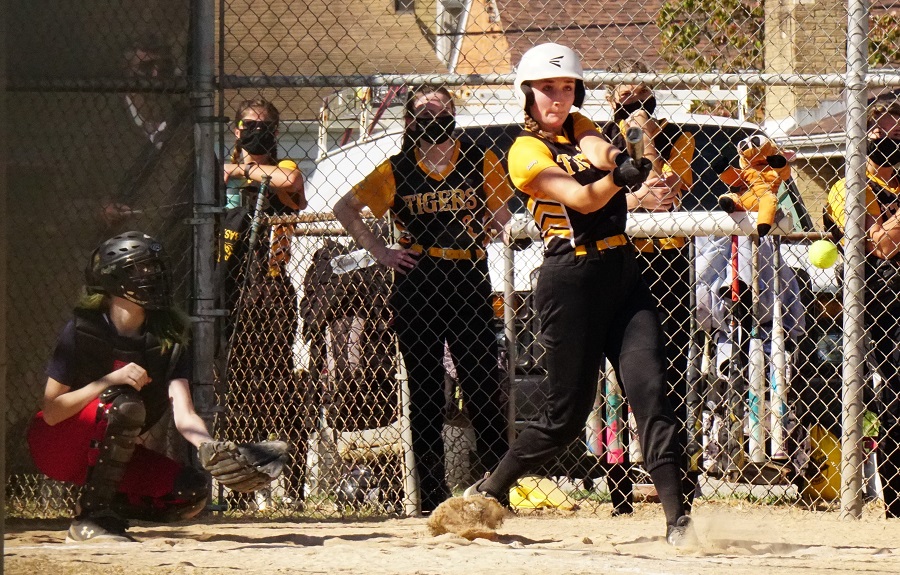 NA Stays Perfect With Sweep of Shaler
NA swept Shaler this weekend in a double header contest, bringing their record to 6-0.  The Tigers used strong bats and a tight offense to get 12-2 and 16-5 victories over the Titans.
In game one, the Tigers came out of the cage fighting, starting with a two-run homer by junior Megan Quinlan.  Seniors Claire Medic and Lizzie Wetmore and juniors Audrey Laswell, and Nikki Crean each racked up multiple hits for the Tigers. Offensively, the girls played tight, not making a single error the entire game.  The infield combination of Wetmore, Quinlan, and Katie Marangoni (Senior) brought two perfect double plays.
In game two a few errors were made by the Tigers in the first inning, but after that, it was smooth sailing.  The first time at bat brought nine runs in from Wetmore, Marangoni, Carly Snyder (Senior), and Crean.
Emily Yanchak pitched both games with no walks and three strike-outs.
Snyder was named player of the game by the coaches after a number of incredible running, over-the-shoulder catches in left field.
With this third sweep, North Allegheny improves to 6-0 on the season. The Tigers will take on Plum on Sunday at 2:00 and 4:00 p.m. from their home turf at Marshall Middle School.  They will also be celebrating their seniors in between the games.  The games will be broadcast live by the North Allegheny Sports Network.