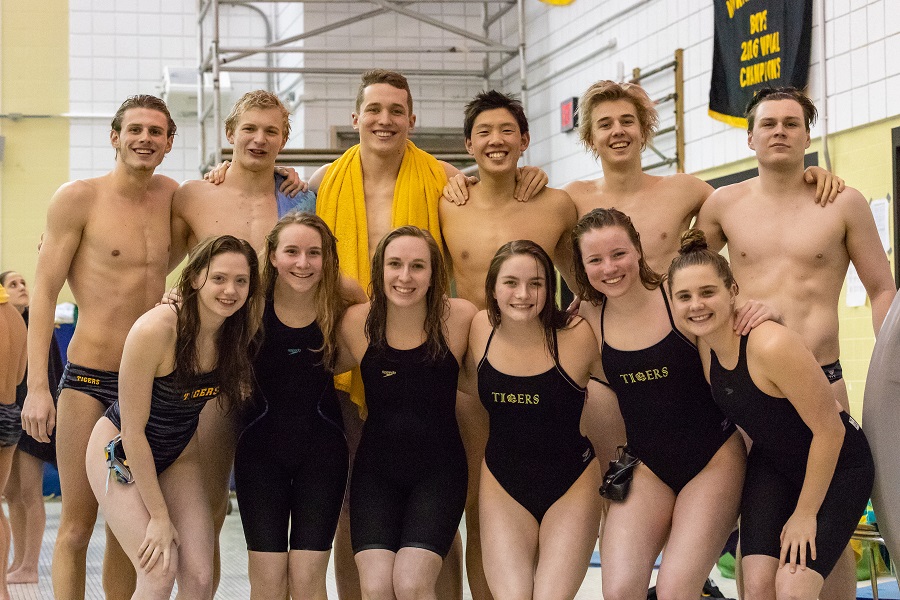 NA Swim Team Shines on Senior Night
The North Allegheny swim/dive team closed out another undefeated dual meet season with an impressive victory over North Hills. The boys team won by the score of 96 – 68 and the girls team won by the score of 95 – 88.
This is another senior class that won every dual meet in their four year careers at North Allegheny. The senior girl swimmers were Emily Cuba, Mary Flavin, Olivia Laun, Nicole Marnell, Lila McGrath and Marlyn Root. The senior boys were Tolik Borisov, Jerry Chen, John Ehling, Micah Phillips, Joel Songer and Jack Wright. Morris Hsieh was the senior manager. The girls diving team had three seniors: Brooke Ferringer, Aliana Kim and Addison Restelli. Dennis Knepp was the sole senior for the boy divers.

The senior relay team of Phillips, Chen, Borisov and Wright started the boys off by winning the 200 Medley Relay. Tim Compton won the 200 Free and Branko Kosanovich won a close race in the 200 IM. Wright won the 50 Free, while Borisov won the 100 Fly. Josh Galecki touched first in the 100 Free, while Ricky Mihm easily out distanced the field in the 500 Free. Another senior relay team of Wright, Borisov, Ehling and Songer won the 200 Free Relay. Divers Knepp and Liam Cross teamed with two swimmers to finish fourth in the relay. Matt Turzai won the 100 Back and Andrew Yang won the 100 Breast. The 400 Relay team of Alex Grahor, Kosanovich, Compton and Mihm finished the meet by winning the 400 Free Relay.

Torie Buerger started the girls off with a win in the 200 Free. Molly Smyers then followed by gliding to victory in the 200 IM. Smyers also won the 500 Free. Olivia Krause won the 100 Fly and Quinn Frost won a close race in the 100 Free. Seniors McGrath, Cuba, Laun and Flavin finished a close second in the 200 Free Relay. Diver Jordan Atkins joined three swimmers to finish fourth while the diving team relay composed of Ferringer, Kim, Olivia Schenk and Restilli finished a close sixth.

Senior divers Restelli, Kim and Ferringer finished 1, 2, 3 for the girls in the diving competition. Cross won the boys diving competition and Knepp finished second.

The swimmers return to the pool Saturday for the Last Ditch Invitational. This event will start at 5 p.m. and is a last chance for swimmers in the area to get a WPIAL qualifying time.