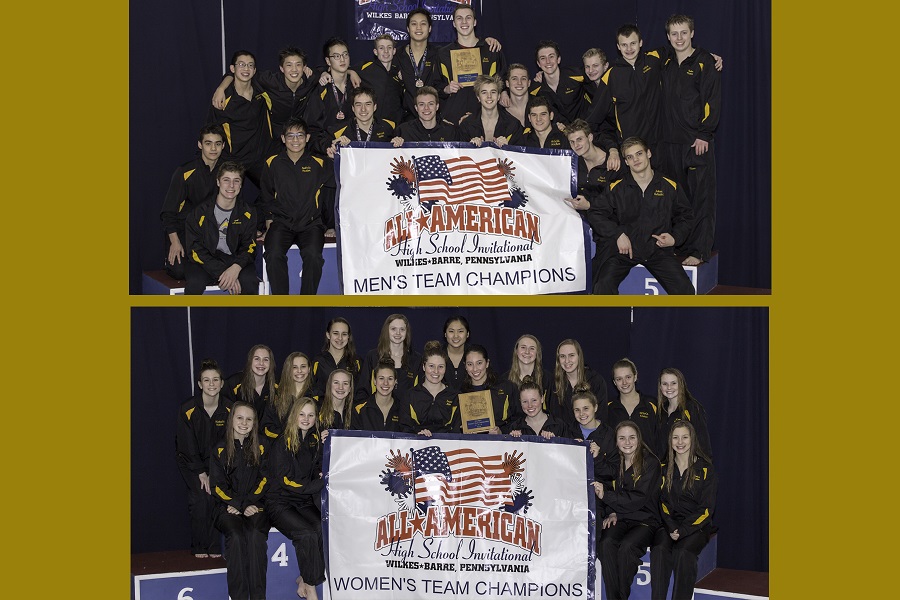 NA Swimmers Set Pool Records, Take Gold at All-American Invitational
The North Allegheny swim team travelled to Wilkes Barre for the All-American Invitational and left with five pool records and first place finishes for both the boys and girls teams.  The boys team set five pool records and won every event enroute to their victory.  The girls team won by a comfortable 253 points over 2nd place finisher Radnor High School.
Rick Mihm was the leader of the boys team with pool records in the 200 IM and the 500 Free.  Jack Wright had a pool record in the 200 Free while Mason Gonzalez established a new pool record in the 100 Free.  The 200 Medley Relay Team of Andrew Zhang, Jerry Chen, Rick Mihm and Mason Gonzalez started the meet with the first pool record of the day.  Mason Gonzalez won the 50 Free while Andrew Zhang won the 100 Fly and the 100 Back.  Jerry Chen finished the sweep of individual events with his win in the 100 Breast.  Jack Wright, Tolik Borisov, Mason Gonzalez and Joel Songer won the 200 Free Relay.  The foursome of Andrew Zhang, Jack Wright, Joel Songer and Rick Mihm won the 400 Free Relay.
The girls team was led by Torie Buerger and Molly Smyers.  Torie won both the 200 IM and the 100 Back.  Molly Smyers won both the 200 Free and the 500 Free.  Olivia Kisow followed closely behind Molly finishing 2nd in the 200 Free and Kristine Mihm followed Torie finishing 2nd in the 200 IM.  The team of Torie Buerger, Ann Juneau, Lila McGrath and Mary Flavin started the girls road to victory with their win in the 200 Medley relay.
The team returns to the pool on Thursday, January 18th.  They travel to Hampton for a sectional meet which begins at 5pm.