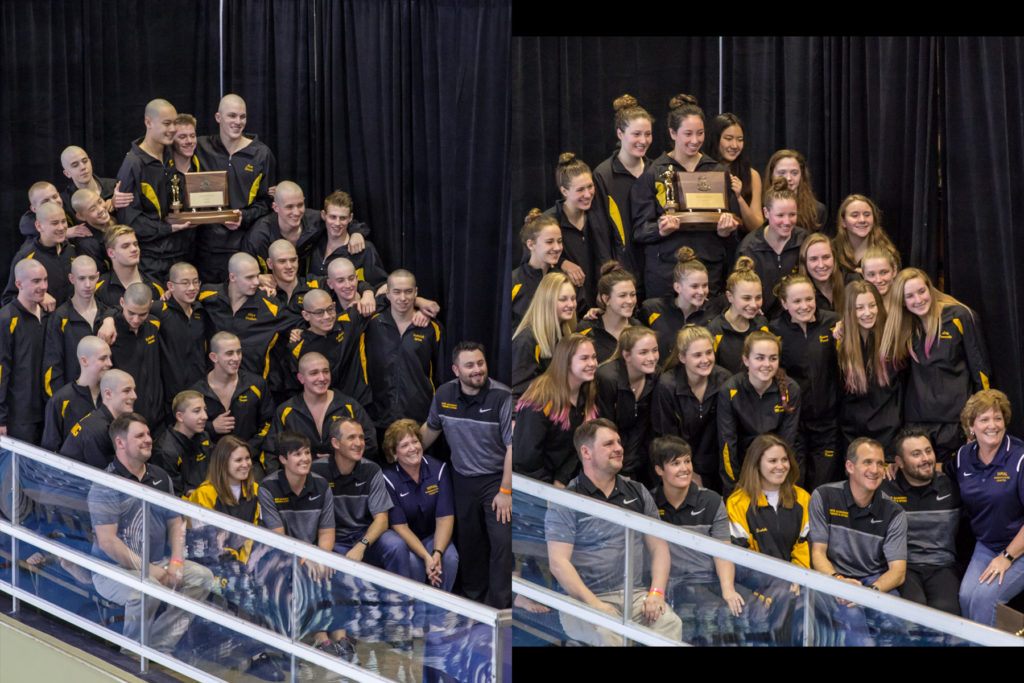 NA Swimmers Take WPIAL Victory Plunge Again
The North Allegheny swimmers ended the 2018 WPIAL Championships in a familiar place – with the customary victory dive into Trees Pool.  The NA girls team amassed 327 points in winning its 10th consecutive WPIAL title.  Upper St. Clair (255 points) and Mt. Lebanon (252 points) tried to end the streak but fell short. The boys team earned a seventh straight WPIAL crown and totalled 400 points to easily outdistance Upper St. Claire's 253 points.
Kristine Mihm started the girls off with a 4th place finish in the 100 Free.  Freshmen Molly Smyers and Olivia Kisow continued the momentum with their 1st and 7th place finishes in the 500 Free.  Torie Buerger and Lila McGrath added to the lead with Torie's 1st place and Lila's 8th place finish in the 100 Back.  In the final event of the meet for the girls, the team of Kristine Mihm, Molly Smyers, Lila McGrath and Torie Buerger swam to a convincing 2.5 second victory over Mt. Lebanon and Upper St. Clair in the 400 Free Relay.
The boys started their portion of the meet by placing 4 swimmers in the top 8 in the 100 Free.  Mason Gonzalez finished 2nd, out touched by .05 seconds.  Jack Wright finished 3rd, Joel Songer finished 4th and Josh Galecki came in 7th place.  Rick Mihm won the 500 Free with John Ehling touching in 4th place.  Andrew Zhang won the 100 Back.  In the 100 Breast, Jerry Chen finished in 2nd place and Jacob McCarron finished in 7th place.  The boys also finished the meet with a statement swim.  The 400 Free Relay team of Rick Mihm, Josh Galecki, Joel Songer and Jack Wright set a new WPIAL record of 3:03.12.
The swimmers and divers travel to Bucknell University , March 14 – 17, for the PIAA championships.  The boys team will be attempting to repeat last year's State Champion performance.