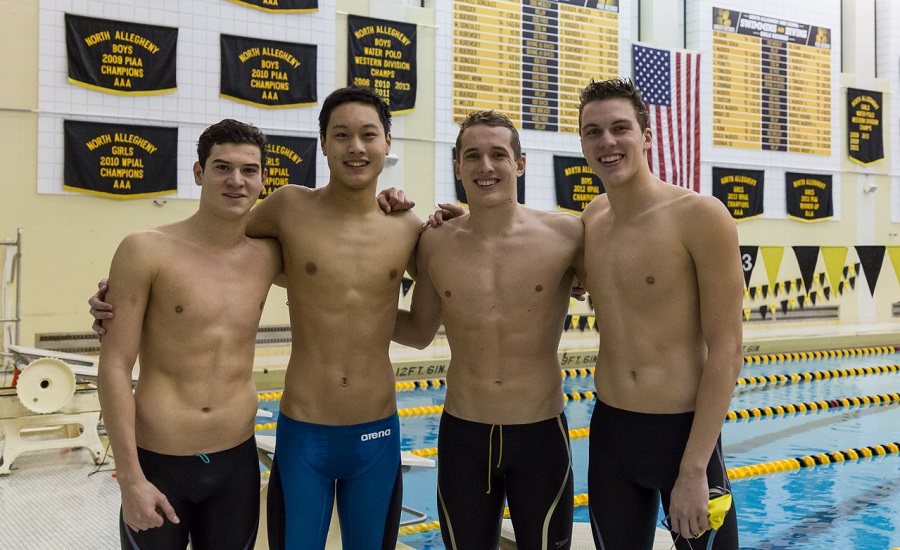 NA Sets Two National Records In Win Over Blue Devils
The NA boys team set two National Public High School Relay records, one varsity relay record and one pool record enroute to a 102 – 79 victory over Mt. Lebanon.  The girls team had one varsity record in its 94 – 87 victory.
Mason Gonzalez, Andrew Zhang, Jack Wright and Rick Mihm established a new National Public High School record in the 200 Yard Free Relay with a time of 1:20.46.  The same team of Gonzalez, Zhang, Wright and Mihm then finished off the night with another National Public High School record in the 400 Yard Free Relay with a time of 2:57.59.  The 200 Yard Medley Relay team of Andrew Zhang, Jerry Chen, Mason Gonzalez and Jack Wright began the meet with a varsity record of 1:30.55.  Rick Mihm followed with a new pool record of 1:38.80 in the 200 Free.  John Ehling won the 200 IM while Josh Galecki won the 50 Free as well as winning the 100 Back.  Jerry Chen touched first in the 100 Fly and Ethan Song swam to a comfortable victory in the 500 Free. Audric Pastor finished the individual events with his victory in the 100 Breast.
The girls team were led by double winners Torie Buerger and Mary Flavin.  Torie established a new varsity record of 2:02.47 in the 200 IM and then doubled up with a victory in the 100 Back.  Mary Flavin was the winner in both the 50 Free and the 100 Free.  Kristine Mihm touched first in the 200 Free while Molly Smyers easily outdistanced the field in the 500 Free.  The girls won both the 200 and 400 Yard Free Relays.  Torie Buerger, Ann Juneau, Mary Flavin and Kristine Mihm made up the 200 Free team while the 400 Free team consisted of Kristine Mihm, Molly Smyers, Lila McGrath and Torie Buerger.
Maya Ennies was the top girl diver with her 2nd place finish.  The top boys diver was Dennis Knepp finishing third.
North Allegheny returns to the pool on Tuesday, December 19th, for a home meet with Upper St. Clair.  The meet starts at 6PM.