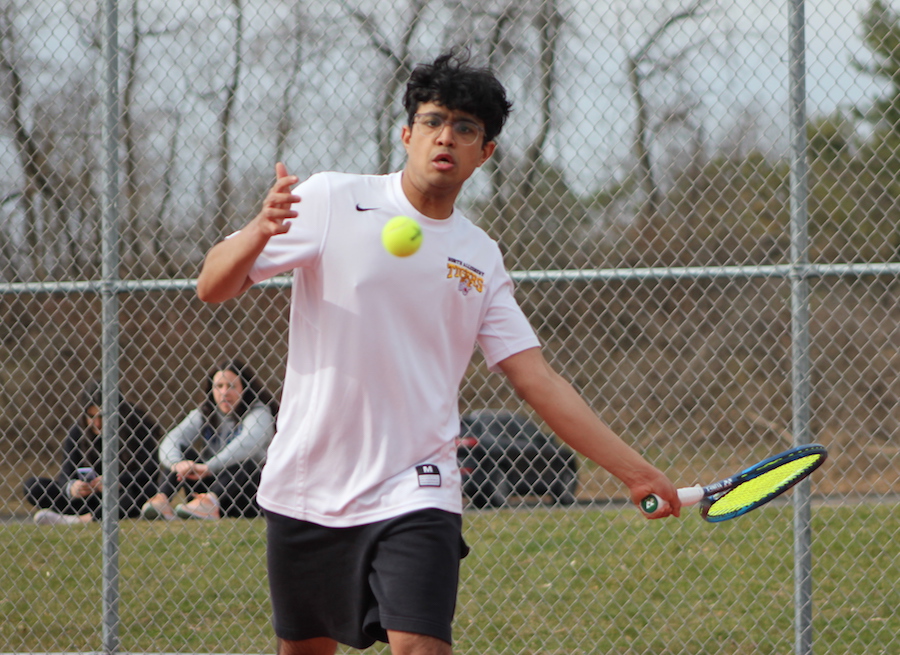 NA Tennis Wins Home Opener Against Hampton
On the first day of spring with a bright and strong backdrop of sunshine, the Tigers Tennis Team opened their home season Monday with an exhibition match against neighboring Hampton.  Controlling play from the start, the Tigers defeated the Talbots by a 5-0 score where each match was decided in straight sets.
Leading the way with the first point was freshman Evan Kaufman at third singles.  The second doubles partnership of sophomore Sri Thirumala and freshman Adhav Ramadas combined for the second point.  It was Ramadas' varsity debut.  Freshman Shaun Fernando presented the clinching point at one singles while senior captain Manas Kathir offered the fourth point from the two singles slot.  Wrapping up the day, junior Amit Bhandari and freshman Matthew Kampi turned in a strong performance in their first match together at number one doubles.
The win moves the Tigers to 2-0 on the young season.  They return to action Tuesday as they host Alderdice in a Triple A exhibition contest against the Dragons.  Match time is scheduled for 3:30 PM on the NASH Courts.
Match Summary – 03/20/2023
North Allegheny 5, Hampton 0
Singles
#1 Shaun Fernando (NA) Vitaliy Pikalo (H) 6-0, 6-0 
#2 Manas Kathir (NA) def. Ben LaRusse  (H) 6-0, 6-0
#3 Evan Kaufman (NA) def. J.J. Edwards (H) 6-0, 6-0
Doubles
#1 Amit Bhandari/Matthew Kampi (NA) def. Hayden List/Matthew Mason    (H) 6-1, 6-1
#2 Sri Thirumala/Adhav Ramadas (NA) def. Brandon Pascucci/Jaxson Maye (H) 6-1, 6-0