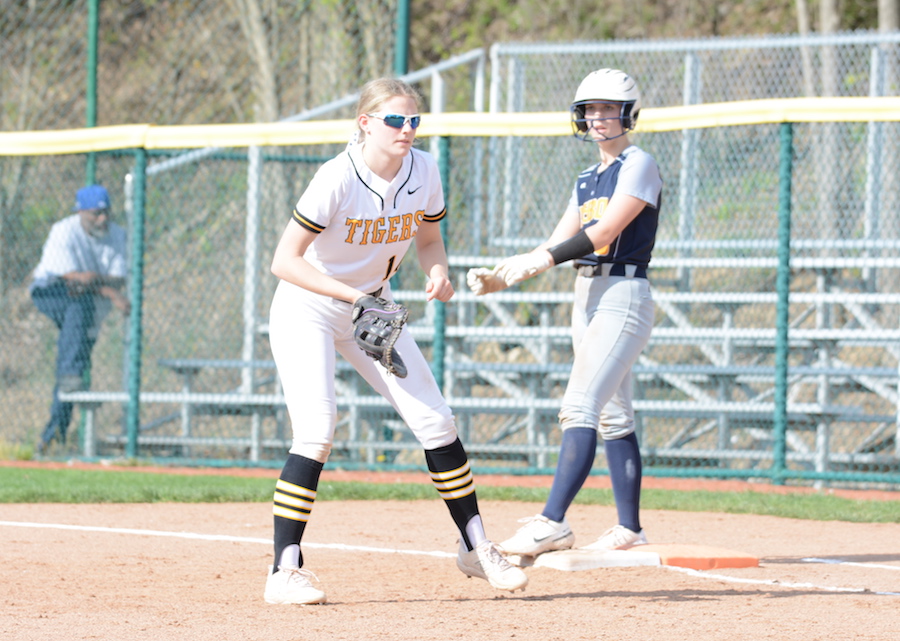 Tigers Resume and Win Suspended Game at Butler, 13-2
North Allegheny softball traveled to Butler on Monday to play a section contest in 45-degree weather that included rain, sleet, and hail before play was suspended in the top of the fifth inning with two outs. The game resumed today with clearer skies, resulting in a 13-2 Tiger victory over the Tornadoes.
The Tigers' offense tallied 14 hits in six innings. Senior Meghan McDonough and junior Carlyn Vaupel each got on base in the first inning on Butler errors. Senior Reagan Sheets hit in both runners on a hard-hit single to center field, putting the Tigers on the board. A single by junior Caitlin Logan and a walk by sophomore McKenna Rowlands loaded the bases with senior Sadie Kelly at the plate. Kelly was hit by a pitch, scoring Sheets and leaving the Tigers ahead 3-0 in the first inning.
The Tigers scored again in the second when McDonough led off with a single. With McDonough at third, sophomore Sammy Plotsko grounded out, scoring McDonough and increasing the Tigers' lead to 4-0.
While both teams were scoreless in the third inning, the fourth brought in runs for both teams. With two outs, Vaupel and Plotsko singled to put runners on base for the Tigers. Butler's defense misplayed a pop fly by junior Anne Melle, scoring Vaupel. Sheets singled to score Plotsko, followed by a misplayed ball hit by Logan to score Melle. After the top of the fourth, the Tigers led 7-0. The bottom of the inning brough the worst of the afternoon's weather, as well as two runs for Butler. Butler scored on a series of walks and a hit batter, but the Tigers got out of the inning with runners in scoring position.
The Tigers scored three additional runs in the top of the fifth. Senior Katie Lucas singled and scored on a home run hit by McDonough. Plotsko safely reached first on an error and was hit in on a double by Melle, increasing the Tigers' lead to 10-2. Sheets was then hit by a pitch, which resulted in an inspection of the mound and ultimately a suspension in play.
When the Tigers returned to Butler on Thursday, they held the Tornado scoreless in the bottom of the fifth inning before scoring three final runs in the sixth. Rowlands doubled, and then scored on a home run hit by Lucas. Vaupel and Plotsko smacked back-to-back doubles, with Vaupel scoring the final run for the Tigers.
Sheets finished the day 2-for-3 with three RBIs, while McDonough and Lucas both hit their first career home runs, earning two RBIs apiece. Plotsko earned two RBIs on the day, as well as held Butler to one hit on the mound, allowing two runs and striking out eleven.
The Tigers will host Seneca Valley on Saturday. The game is scheduled to begin at 1:00pm.
Line Score - Softball vs. Butler - 04/24 & 4/27
| Score by Innings | 1 | 2 | 3 | 4 | 5 | 6 | 7 | R | H | E |
| --- | --- | --- | --- | --- | --- | --- | --- | --- | --- | --- |
| North Allegheny | 3 | 1 | 0 | 3 | 3 | 3 | X | 13 | 14 | 1 |
| Butler | 0 | 0 | 0 | 2 | 0 | 0 | X | 2 | 1 | 5 |
WP - Sammy Plotsko (9-3) LP - Kelsey Ogin