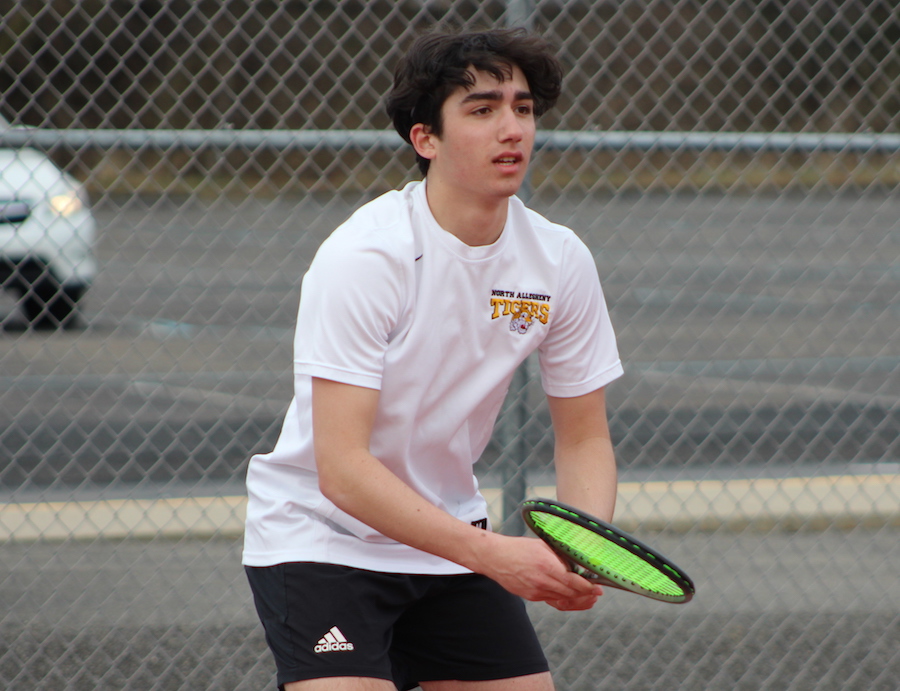 NA Tigers Tame Moon Tigers in Section Opener
The NA Boys Tennis Tigers hosted the Moon Area Tennis Tigers in the WPIAL AAA Section 2 opener on the NASH courts Wednesday afternoon and worked their way to a 4-1 victory.   Leading the way with the initial team point was junior UT Tiwari, playing his first varsity match with senior Raj Ginde at 2nd doubles, cruising to a straight set victory without losing a game. Junior Amit Bhandari and freshman Matthew Kampi followed suit with a 6-0, 6-0 victory at 1st doubles.  Freshman Evan Kaufman came through with the clincher at third singles with another straight-set win to put NA into cruise control.
With the match decided, senior (captain) Manas Kathir also fashioned a strong, two-set win at 2nd singles.  In the final action the NA Tigers' number one, freshman Shaun Fernando, faced Moon's ace, senior Anthony Lounder.  Lounder slipped by Fernando in the first set before the NA freshman retired down 1-2 in the second.
The win moves the Tigers to 4-0 on the season. They travel to Mt. Lebanon Thursday afternoon to take on the Blue Devils for an exhibition match. Match time is scheduled for 3:30 PM on the Mt. Lebanon courts.
Match Summary – 03/22/2023
North Allegheny 4, Moon Area 1
Singles
#1 Anthony Lounder (MA) def. Shaun Fernando (NA)  7-5, 2-1 Retired)
#2 Manas Kathir (NA) def. Alexander Stern (MA) 6-0, 6-3
#3 Evan Kaufman (NA) def. Aarav Surpanent (MA) 6-2, 6-0
Doubles
#1 Amit Bhandari/Matthew Kampi (NA) def. Logan Cordle/Nolan Jaczcar (MA) 6-0, 6-0
#2 Raj Ginde/Utkarsh Tiwari (NA) def. Nishu Malikarjarun/Jack Erhard (MA) 6-0, 6-0