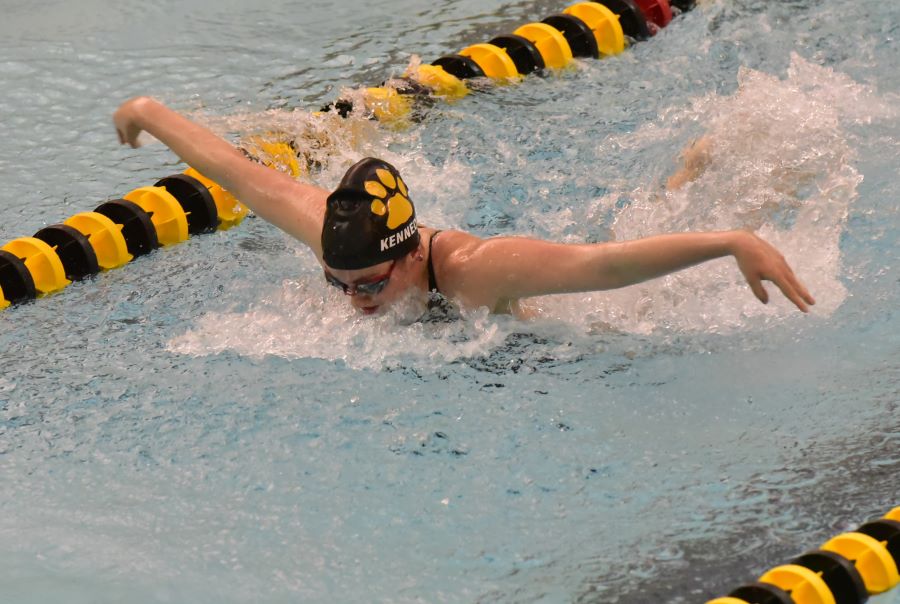 NA Tops Mt. Lebanon For Non-Section Sweep
North Allegheny took home another win in the swimming and diving competition against south hills rival Mt Lebanon. The Lady Tigers earned a 130-55 victory, while the NA Boys claimed a 98-88 win.
The diving teams had a split result with North Allegheny winning the girls event and Mt Lebanon winning the boys. The NA girls swept the first three spots with Christina Shi in first place with a score of 278, followed by Lola Malarky's 258 and Maddie Whitewolf at 198. On the boys' side, Alex Palermo finished third with a score of 163.
In the swimming events, the excitement started off with the 200 Medley Team Relay. For this event, the NA Girls team achieved first place with a time of 1:44.89 led by Greta Mott, Natalie Sens, Eva Ogden, and Rebecca Melanson. The NA quartet of Dani Hinkson, Tori Tieppo, Vivien Li and Julianne Weaver notched third place in the event.
In the 200 Free, the Girls swept the top three spots: Lexi Sundgren grabbed first place with a time of 1:51.76, followed by Claire Bacu and Delaney Kennedy. The Boys showdown was thrilling, with Zachary Jubeck racing until the end to achieve a second-place finish with a time of 1:44.73. Josh Berty's strong performance rounded out the top three finishers for this event.
For the 200 IM, Sens garnered first place with a time of 2:06.22. On the Boys Side, Gus Miller delivered another first-place showing with a blazing time of 1:58.08, followed closely by Danny Lesinski (2nd) with a time of 1.59.28.
For the 50 Free, it was nothing but white water with Melanson's time of 24.20, coming in second place, and Mott rounding out the top three. Grant Regule sprinted to the wall and finished a close second place with a time of 21.85. Also, in the Boys lineup, Dylan Seiford swam an impressive 22:77 for a fourth-place finish.
More great Tiger swimming included first-place finishes in the 100 Fly featuring Dani Hinkson's winning time of 57.16 and Eva Ogden's time of 59.05. William Gao's time of 50.83 landed him another first-place finish while freshman Zachary Totin placed third with a stellar time of 53:92.
The NA Girls demonstrated their dominance in the 500 Free, taking the top three spots. Bacu placed first with a time of 5:04.75, followed by Mikayla Tieppo (5:18.66) and Ava Sharar (5:35.91). Berty demonstrated his endurance, with a strong second-place finish of 4:48.06.
For the Girls 200 Yard Relay, first place went to NA Team A with a time of 1:38.11 (Melanson, Sens, Kennedy, and L. Sundgren). A strong second-place finish went to the NA Girls Team B with a time of 1:42.72, anchored by Madden Woycheck, Sharar, Weaver and Bacu.
Additional strong performances were delivered in the 100 Free with a second-place showing by Jubeck (48.79) and third-place effort by Jake Rechenmacher (49.65).
In the 100 Back, Gao took first place (52.81), Lesinski garnered second place 53.15 and Miller claimed third place (54.06).
In the 100 Breaststroke, Sens was first place (1:04.05), followed by Tori Tieppo and Emma Dietz rounded out the top three. Seiford scored third place for the NA Boys in the 100 Breast with a new personal best time of 1:03.48.
For a look at the scoring from Thursday night's meet, click here.
The North Allegheny boys' and girls' teams both improve to 3-0 on the season. The Tigers will return to action on Dec. 20 with a visit to Upper St. Clair.