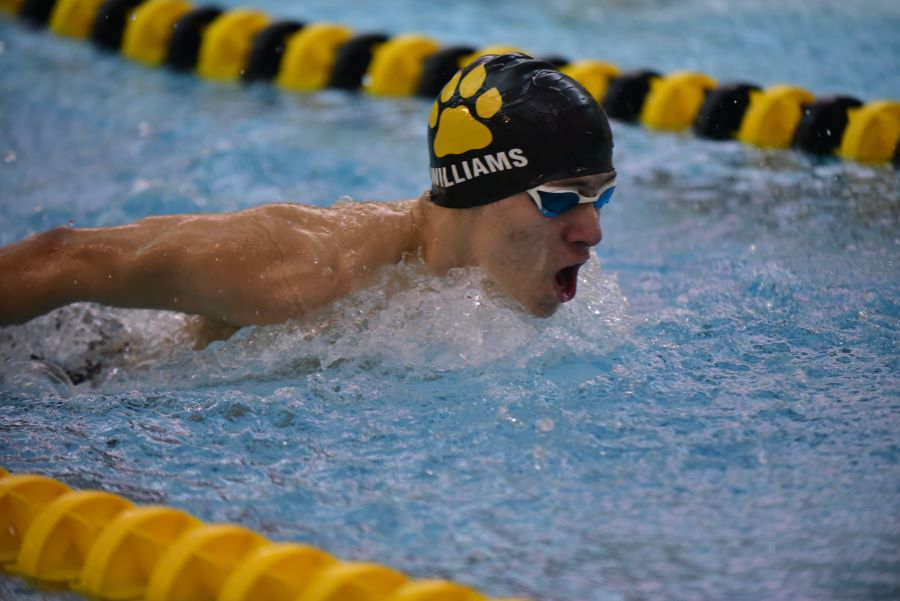 NA Tops Pine-Richland For Section Win
by Swimming & Diving contributor
North Allegheny took home another win in the Swimming and Diving Competition vs Pine Richland. The NA Girls scored 99 vs. PR at 87, and the NA Boys scored 93 vs. PR 80.
On the dive board, the North Allegheny boys delivered a clean sweep of the top 3 places led by Ethan Maravich's 1st place score of 197.  Alex Palermo (181) placed second and Alex Moore (156.9) third.  For the girls, Juliet Hood claimed the first victory of her NA career with a score of 235.  It was a tight battle for second place with Pine Richland's Emily Smallwood (229) edging out North Allegheny Senior Maddie Whitewolf (227) by two points.
On the swimming side, the excitement started off with the 200 Medley Team Relay. For this event, the Girls team achieved 2nd place with a time of 1:52.91 led swam by Dani Hinkson, Natalie Sens, May Coffman, and Rebecca Melanson. The Girls also took 3rd Place in this event. The Boys also achieved 2nd place with a time of 1:42.12 swam by Caden Currykosky, Andrew Li, Emmanuel Chu, and Talon Xing.
In the 200 Free, Delaney Kennedy won 1st place with a time of 2:00.34. The Boys showdown was thrilling, with Josh Berty racing until the end to achieve a 1st place finish with a time of 1:52.06.
For the 50 Free, it was Sens with another winning time of 24.53. William Gao sprinted to the wall to win first place with a time of 22.13.
More great Tiger swimming with 1st place finishes for the 100 Free featuring Lexi Sundgren's winning time of 53.10. Grant Regule's time of 49.42 landed him another 1st place finish. Great Swims!
The NA Girls demonstrated their dominance in the 500 Free, taking the top three spots: Claire Bacu 1st place 5:16.16. Elliot Maravich demonstrated his endurance, with a strong 1st place finish of 4:50.46.
In the 100 backstroke, NA swept the top three spots, with Greta Mott taking 1st place with a time of 1:00.08, followed by Hinkson, and Vivien Li. The Boys' Gao won 1st with a time of 53.45.
For the full results, click here.
Congrats on the great swimming and WPIAL qualifying times. Next Wednesday, Feb. 1, the Tigers take on Seneca Valley. The meet will be broadcast live by the North Allegheny Sports Network.