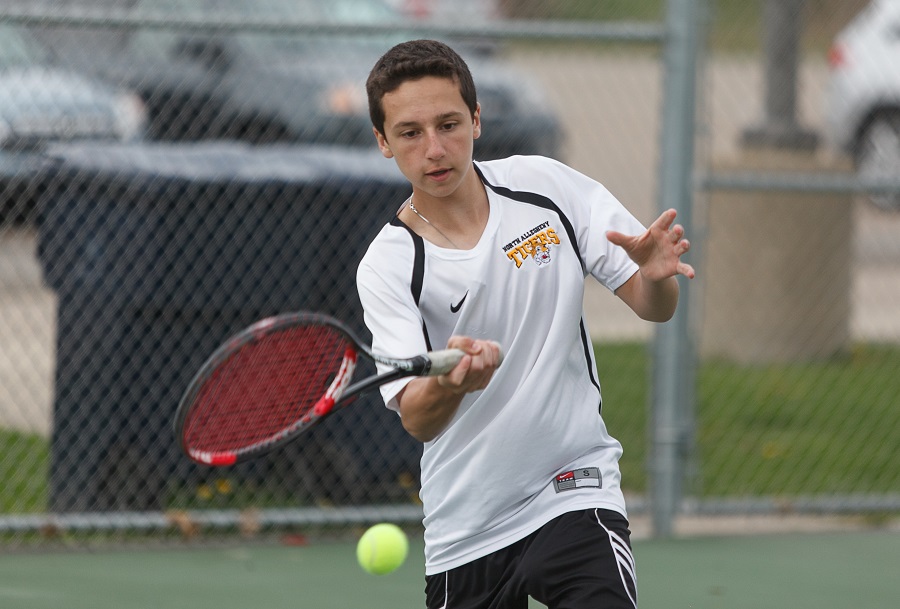 NA Welcomes Tigers to Section 2, Beats Moon 5-0
The NA Tigers travelled to Moon Wednesday afternoon to welcome another new team to Section 2, the Tigers of Moon Area.  The NA Tigers prevailed in the contest with a sweep against their new western rivals.
The first point of the match came from juniors Andrew Xu and Apoorv Anand, playing together for the second consecutive day, at number one doubles.  Senior Eric Huang and freshman Andrew Chuirazzi continued their winning ways at number two doubles.  Freshman Richard Hofmann clinched the match for NA at number two singles, while freshman Ivan Voinov controlled play at number three singles.   Junior Jared Isaacs was stretched to three sets at number one singles but came through in convincing fashion without losing a game in the decisive set.
With the win, the Tigers improve to 6-0 on the season, and are now 4-0 in Section 2 play.  They will take on the Mars Planets Thursday afternoon, on the road, in another important Section 2 match, starting at 3:30 PM.
Match Summary (3/25/15)
NORTH ALLEGHENY—5  MOON–0
Singles
#1  Jared Isaacs (NA) def. Logan D'Angelo (M) 6-2, 4-6, 6-0
#2  Richard Hofmann (NA) def. Ryan Becker (M) 6-1, 6-2  
#3  Ivan Voinov (NA) def. Andrew Morgan (M) 6-2, 6-1
Doubles
#1  Andrew Xu/Apoorv Anand (NA) def. Jaron Skow/Ethan Shetty (M) 6-2, 6-1
#2  Eric Huang/Andrew Chuirazzi (NA) def. Nikhil Maheshwari/Rushmin Khazanchi (M) 6-3, 6-1