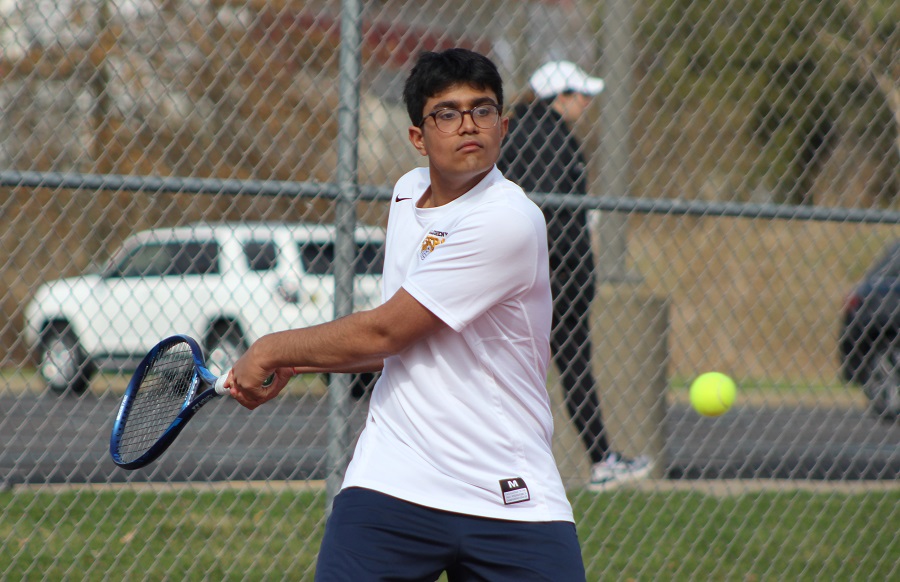 NA Wins Battle of Tigers With Sweep of Moon
Awaiting their mascot counterparts Wednesday afternoon, the NA Tigers welcomed the Moon Area Tigers to the NASH courts for a Section 2 contest and North Allegheny was able to complete a sweep, 5-0.
Starting the scoring was junior Manas Kathir at two singles, defeating Alexander Stern in straight sets without losing a game.  The second doubles combo of super seniors Atharva Sumant and Milun Jain controlled play over Jack Erhard and Nolan Jasczcar for the second team point.  The match clincher came from the racket of sophomore Amit Bhandari in a workman-like match against Aarav Surapeneni at three singles.  First doubles came through with senior Shomik Telang and junior Raj Ginde beating Moon's veterans, Rohan Maheshwari and Neil Ruppel in a close and exciting contest.
The match of the day again was at one singles, where NA's ace, sophomore Trey Davidson tangled with Moon's counterpart, junior Anthony Lounder.  Davidson jumped to an early lead in the first set before Lounder rebounded to make it a tight contest.  Davidson prevailed 6-4.  The second set was also a contest of wills, but Davidson was able to pull away at 6-3.  Both stellar players will be among the representatives of their squads at the Section 2 Singles Tournament next week.
With the win, the NA Tigers climb to 5-3 on the season along with a 4-0 mark in section play.  The Tigers continue their stretch of Section 2 competition Thursday afternoon on the road against the Butler Golden Tornado.  The match will start at 3:30 PM on the Butler High School courts
Match Summary – 03/30/2022
North Allegheny 5, Moon Area 0
Singles
#1  Trey Davidson (NA) def. Anthony Lounder (MA) 6-4, 6-3
#2  Manas Kathir (NA) def. Alexander Stern (MA) 6-0, 6-0
#3  Amit Bhandari (NA) def. Aarav Surapeneni (MA) 6-2, 6-2
Doubles
#1 Shomik Telang/Raj Ginde (NA) def. Rohan Maheshwari/Neil Ruppel (MA) 6-3, 7-5
#2 Atharva Sumant/Milun Jain (NA) def. Jack Erhard/Nolan Jasczcar (MA) 6-3, 6-0