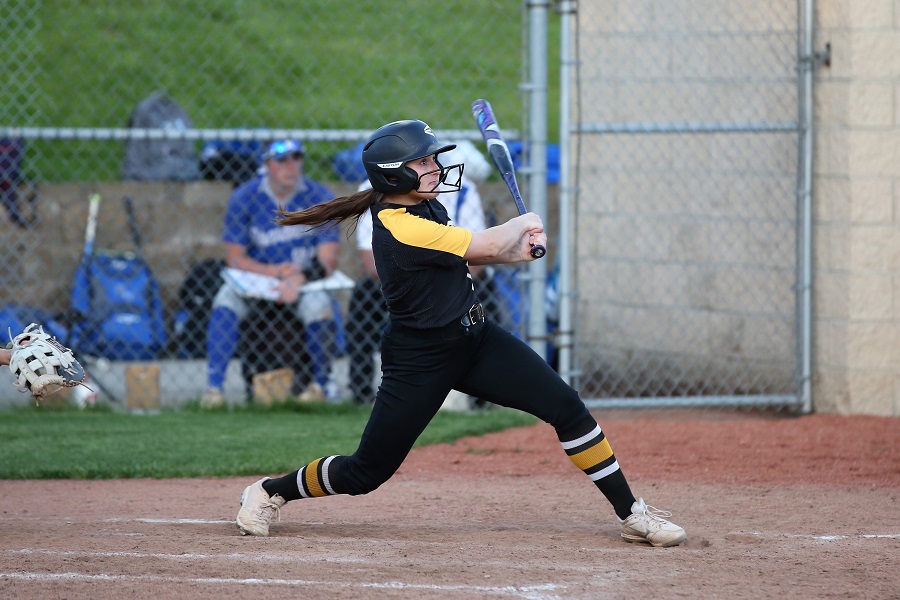 NA Wins Slugfest At Canon-McMillan, 9-7
North Allegheny softball earned its second section win over Canon McMillan with a final score of 9-7 on Wednesday afternoon. The game was driven by each team's offenses, with a total of 25 hits between them.
North Allegheny scored in the first inning with two outs when sophomore Sammy Plotsko ripped a double to left field. Junior Anne Melle singled, scoring Plotsko for a 1-0 lead. The Tigers held the Lady Macs scoreless at the bottom of the inning before scoring three additional runs in the second, again with two outs. Senior Meghan McDonough singled with runners at second and third, scoring one. An errant throw by Canon Mac scored a second. McDonough stole third before being scoring on a single by Plotsko. The game entered the bottom of the second inning with the Tigers up 4-0.
However, the Lady Macs' offense came alive, stringing together three hits and capitalizing on an infield error to score three runs. Pitcher Sammy Plotsko retired the third out of the inning, leaving two Canon Mac base runners in scoring position. North Allegheny remained scoreless in the third inning, and then a solo home run by Canon-McMillan's Kierston Williams tied the game 4-4.
The Tigers again answered back in the fourth with two outs. Sophomore McKenna Rowlands beat out a hard hit ball to the shortstop and advanced to second on a single by McDonough. Plotsko then doubled, scoring both Rowlands and McDonough. With a score of 6-4, the Tigers held the Lady Macs scoreless into the fifth inning.
North Allegheny scored again with two outs in the fifth with a pair of singles hit by junior Caitlin Logan and senior Mayson Brokos. A timely double by junior Rachel Rusnica scored two, increasing the Tiger's lead 8-4. However, the Lady Macs' offense came back one more time when they strung together five hits, scoring three total runs. At the end of the fifth, the score was 8-7 in favor of the Tigers.
The sixth inning left both teams scoreless before the Tigers' offense packed one last punch in the seventh, again with two outs. With runners at first and third, Rowlands singled and drove in the final run of the game. The Tigers' offense held the Lady Macs in the bottom of the inning, ending the game with a final score of 9-7.
Plotsko threw five innings in the circle, recording eight strikeouts. Plotsko also went 3-for-3 at the plate, tallying three RBIs. Melle entered the circle in the sixth, holding Canon-McMillan to two hits and no runs to earn the save.
The Tigers are scheduled to host Butler on Friday at 4:00pm for their next section contest. Weather permitting, the game will be broadcast live by the North Allegheny Sports Network.
Box Score - Softball vs. Canon-McMillan - 03/29/2023
| Score by Innings | 1 | 2 | 3 | 4 | 5 | 6 | 7 | R | H | E |
| --- | --- | --- | --- | --- | --- | --- | --- | --- | --- | --- |
| North Allegheny | 1 | 3 | 0 | 2 | 2 | 0 | 1 | 9 | 14 | 3 |
| Canon-McMillan | 0 | 3 | 1 | 0 | 3 | 0 | X | 7 | 11 | 1 |
WP - Sammy Plotsko (4-0) LP - B. Bumer SV - Anne Melle (1)