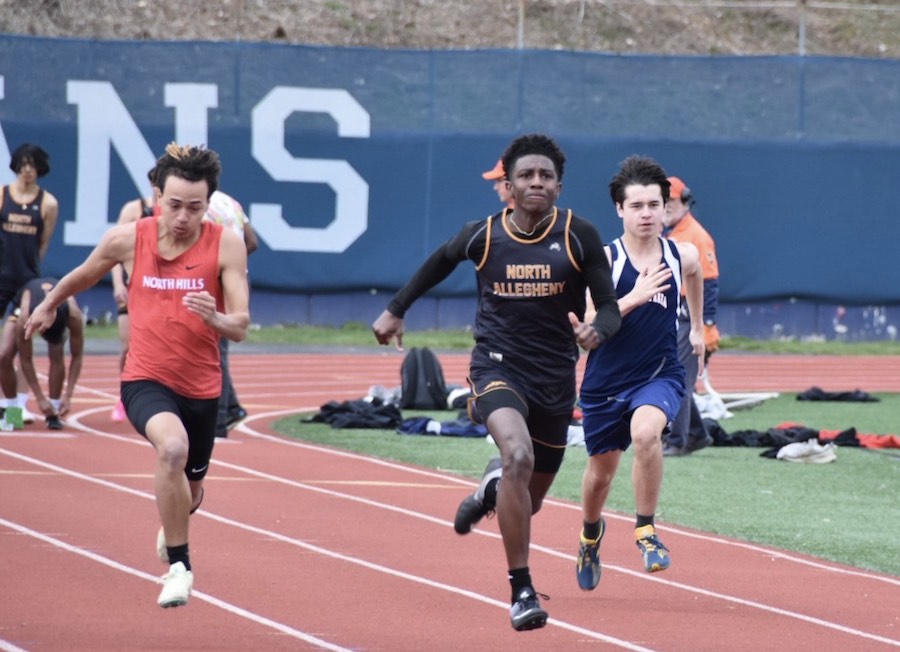 NATF Earns Section Sweep In Tri-Meet Over Shaler, North Hills
In the long-awaited season opener on Wednesday at Shaler High School, the North Allegheny track and field teams each earned a pair of section wins in a tri-meet over the host Titans and participating North Hills Indians. The Lady Tigers defeated Shaler, 123-27, and topped North Hills, 127.5-22.5. The NA Boys also cruised to victories by crushing Shaler, 142.33-7.66, and coasting past North Hills, 103-42.
After having the three meets canceled, the Tigers were eager to finally have a chance to compete. For the Lady Tigers, first-place performances were turned in by Marina Comino (both hurdles races), Lucia Wells (100m and part of 4×100 relay), Robin Kucler (1600m and part of 4×800 relay), Isabella Costa (400m dash and part of 4×400 relay), Maya Currie (200m dash and part of 4×100 relay), Wren Kucler (3200m and part of 4×800 relay), Ava Como (pole vault and triple jump), Allison Burns (long jump) and Alaina Fantaski (javelin throw).
The NA Boys were paced by first-place efforts from Khiryn Boyd (100m dash), Jack Bertam (1600m), Zach Nash (400m dash), Jackson Pajak (800m), Rourke Kennedy (200m dash), Gregory Kossuth (3200m run), Ryan Handron (pole vault), Rohan Gupta (long jump and triple jump), Kaden Velasquez (discus), Andrew Gavlik (javelin throw) and Jack Yatchenko (shot put).
Following the season opening sweep, the NA track and field team will have two weeks off before the home opener against Butler on April 12 at 3:30 p.m.