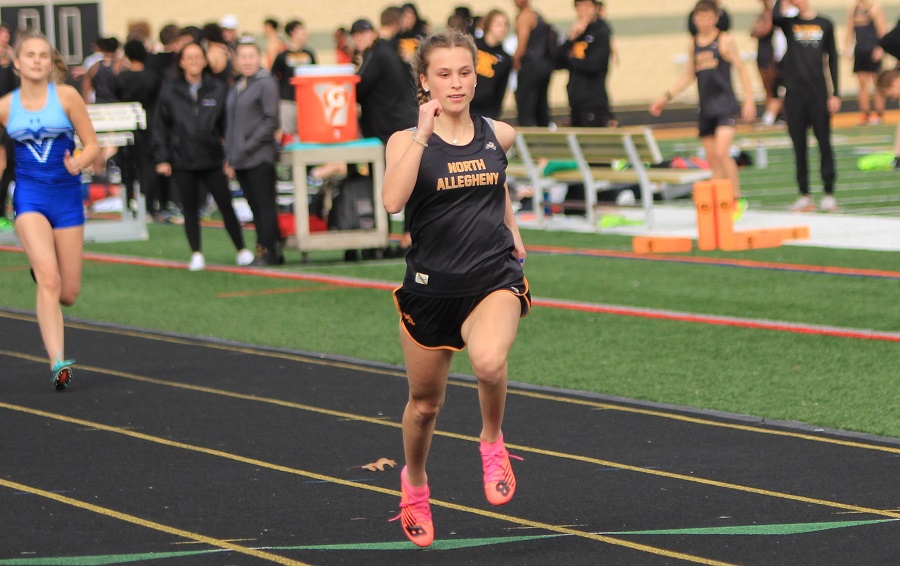 NATF Opens Season With Dominating Performance
The North Allegheny track and field team opened the 2022 season by competing against Villa Maria and Erie Cathedral Prep at Newman Stadium.  Both Tiger teams earned victories with dominating performances. The NA Girls picked up a 104-19 win over the Victors, while the NA Boys topped the Ramblers 106-17.
Leading the Lady Tigers was Rachael Johns, who earned a triple victory by winning the High Hurdle race, the High Jump and the Long Jump. Other Individuals that scored in multiple events included freshman Isabella Costa winning the 200m Dash and scoring second place in both the High Jump and Long Jump. Jacqueline Junko jumped to a second-place finish in the Triple Jump and won the 300m Hurdle Race.  Veteran sprinter Jameson Stotsky sprinted to secure a victory in the 400m Dash and finished third in the 100m Dash. Distance runner Maura Mlecko finished with a second and third place showing in the 800m and 1600m runs, respectively.
 The future looks bright for both teams of NATF.  The Tigers square up against rival Seneca Valley next week on Wednesday, April 6 in the first sectional showdown of the season. Competition begins at 3:30 p.m. at Newman Stadium.