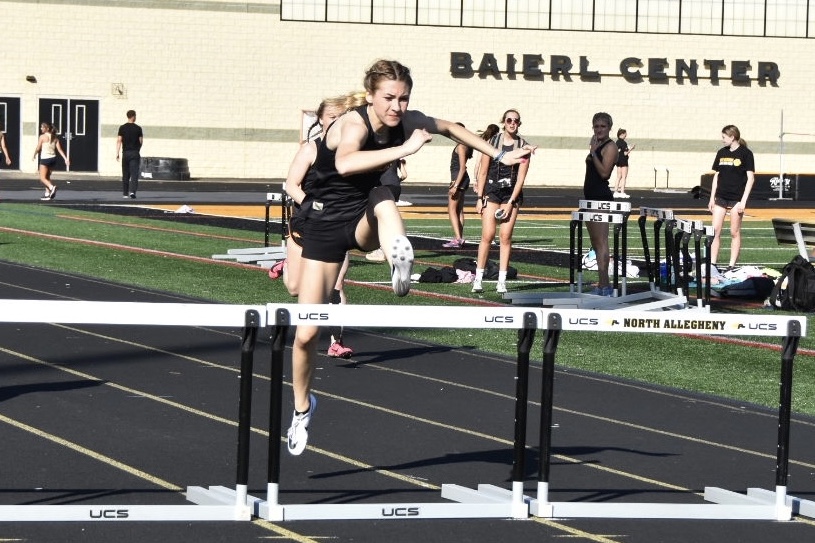 NATF Splits Section Meet with Butler
The North Allegheny track and field team split a home section matchup with the Butler Golden Tornado on Wednesday. The NA Boys fell by a 79-71 final, while the Lady Tigers breezed past the Tornado, 108-42.
Despite the loss for the NA Boys, first-place performances were turned in by senior Owen Curran (110m Hurdles), junior Khiryn Boyd (100m Dash), senior A.J. Foulk (300m Hurdles), senior Ryan Handron (Pole Vault), senior Kaden Velasquez (Discus Throw), senior Andrew Gavlik (Javelin Throw) and sophomore Jack Yatchenko (Shot Put). The 4×800 relay team also took first place.
The Lady Tigers were led to victory thanks to first-place efforts from freshman Maya Currie (100m Dash, 200m Dash), sophomore Wren Kucler (1600m Run), sophomore Isabella Costa (400m Dash, Triple Jump), sophomore Robin Kucler (800m Run, 3200m Run), senior Ava Como (Pole Vault), senior Alaina Fantaski (Javelin Throw) and sophomore Jamie Frisco (Shot Put). The relay teams in the 4×800, 4×100 and 4×400 also garnered first place.
Following Wednesday's results, the NA Boys fall to 2-1 the section and the Lady Tigers improve to 3-0. NATF will take part in the Lady Spartan/Wildcat Invitational on Friday.