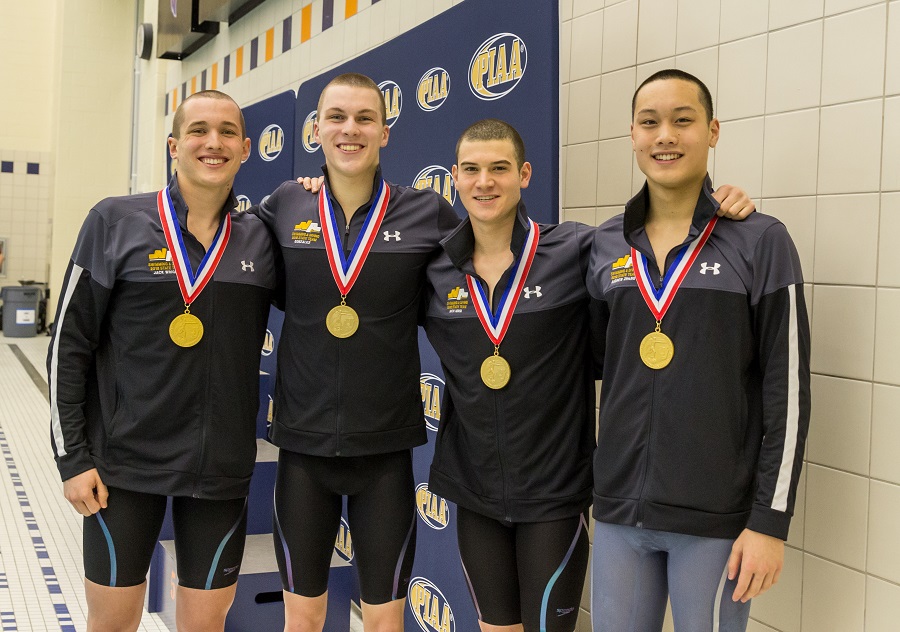 North Allegheny Breaks Legendary Bolles National HS Record
(Article courtesy of www.swimswam.com).
The Independent Schools' grips on the unofficial overall national high school relay records came to an end on Thursday, when a quartet from North Allegheny High School in Pennsylvania swam a 2:53 in the 400 free relay in the AAA State finals.
The group of Mason Gonzalez (43.27), Andrew Zhang (44.24), Jack Wright (43.22), and Rick Mihm (43.08) combined for an incredible 2:53.81. That time broke not only their own National public school record, of 2:57.59, set in December, but also cleared the famed Bolles School independent schools' record of 2:54.43 from 2012. That Bolles relay included Olympic gold medalist Ryan Murphy, Olympic gold medalist Joseph Schooling, and Olympic 4th-place finisher in the 100 free Santo Condorelli.
The swim also broke the 15-18 National Age Group Record of 2:55.96 that they set at the 2017 Winter Juniors – East championships in December.
While the National Interscholastic Swim Coaches Association (NISCA), the official national record-keeping group of high school swimming, doesn't recognize overall records, the fastest of the public and independent school records are colloquially referred to as overall records. Until Thursday, all of those records were held by independent schools – and weren't that close.
But that's now changed, thanks to North Allegheny's swim – that had an incredible three swimmers go sub-44 in a student body of around 650 students per grade.
Gonzalez, the leadoff leg, was even faster in the individual event, swimming a 43,03 lifetime best, ahead of his 43.62 from this meet last year. After winning the 50 free earlier in the meet (19.99), he came away with a perfect 4-for-4 in sprint relay titles. That included North Allegheny's 200 free relay, where with Gonzalez, Wright, Mihm, and Joel Songer broke the public schools' record on Wednesday
What makes these North Allegheny records even more special is that all of the swimmers developed as a group with the Allegheny North Swim Club and now with North Allegheny High School. Of the 5 swimmers involved in the National Record relays this weekend, 4 have been with the Allegheny North Swim Club since at least 2009, and Jack Wright has been with the club since he was 11 in 2011 (and didn't previously have any USA Swimming affiliation). These were fully home-grown relay records.
New Trier, a public school, became the first sub-3 minute high school relay in 2012. Not long after, Bolles dropped that record by 5 seconds.