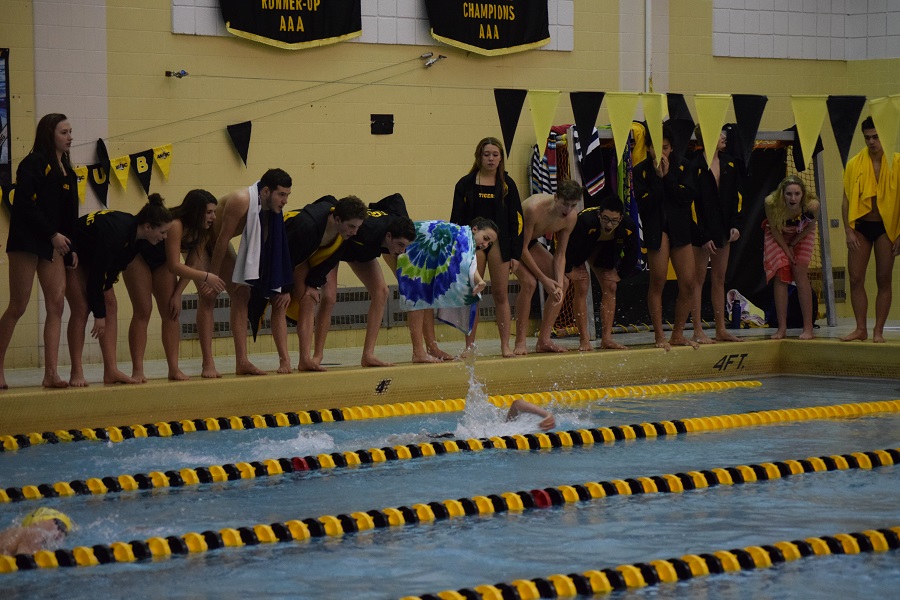 North Allegheny Coasts By Hampton In Section Opener
The North Allegheny Swimming and Diving Team hosted the Hampton Talbots on Tuesday night with both teams winning comfortably. The NA boys won by a final score of 99-81, while the NA girls won by a 101-77 decision.
The girls started off the meet by winning the 200 Medley Relay, with the team of Ella Ogden, Haley Miller, Vivien Li and Delaney Kennedy touching first.  The girls swept all the individual events.  Torie Buerger won the 200 Free, Molly Smyers was a double winner by getting the 200 IM and the 100 Breaststroke, Olivia Kisow won twice as well with the 50 Free and the 100 Free, Lexi Sundgren took the 100 Fly and the 100 Backstroke, and Ogden touched first for the 500 Free.  The 200 Free Relay Team of Smyers, Kisow, Sydney Monteparte and Miller got first place.  They capped off the night by taking the 400 Free Relay, with the team of Madeline Harris, Kara Mihm, Ogden and Olivia Kraus getting first to the wall.
The boys took 6 of the 8 individual events.  Jacob McCarran won the 200 Free, Josh Galecki touched the wall first for both the 200 IM and the 100 Backstroke, Rick Mihm was a double winner as well with the 50 Free and the 100 Breaststroke, and Ethan Song got first place for the 100 Free.  The boys won one relay, the 200 Free Relay, which was composed of David Shi, Zachary Jubeck, Stewart Messer and McCarran.
Both the girls and boys diving team performed well.  Bailey Restelli and Eva Betz finished 1-2, and Jordan Atkins took 5th place.  Will Schenk won a very close match on the boys' side, and Lucas Rodgers took 4th place.
The team will be travelling to Wilkes Barre without their divers for their next meet.  The All-American Invitational will start on Friday, January10 at 11 a.m. and will have multiple Pennsylvania high school teams competing.