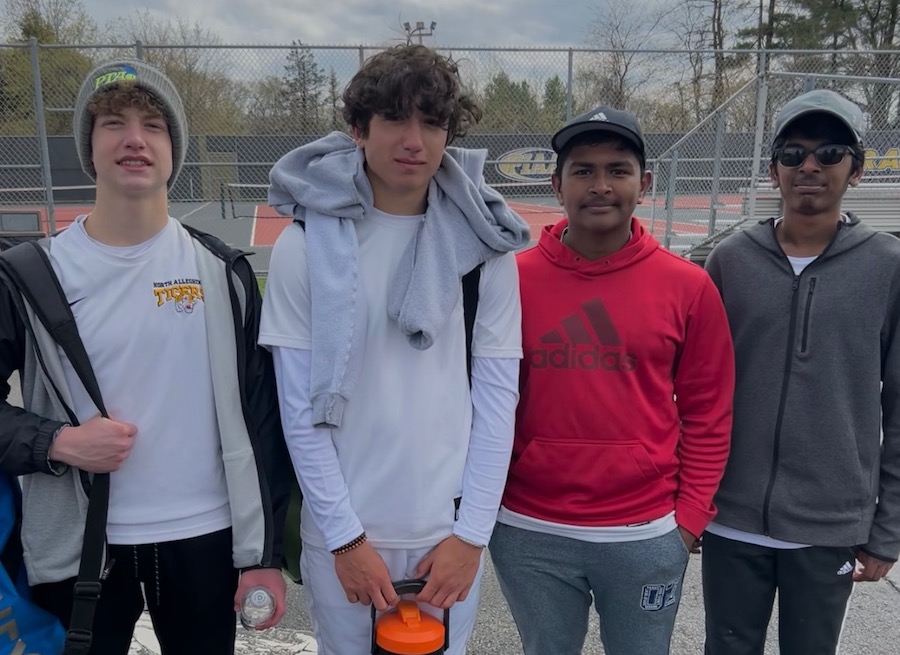 North Allegheny Day at Section 2-AAA Doubles Tournament
Tuesday's nearly freezing temperatures and blustery winds couldn't keep the Section 2 Doubles Tournament from heating up into a North Allegheny extravaganza.  On the NASH courts with all seven section teams fully represented, the Tigers set the tone and kept pace the whole way.
The number two NA entry of sophomore Sri Thirumala and freshman Adhav Ramadas (seeded 10th) opened against the Mars No. 1 team (seeded seventh) and dominated from the start with a 10-1 pro-set victory.  They tangled next in the quarterfinals with the two seed, North Hills' number one doubles team of Josh Kim and Lukas Clement.  After a few breaks and uneven play from both squads, the NA duo pulled out a 10-6 win over the North Hills veterans.  That set the stage for a matchup with Pine-Richland's No. 2 team (seeded 14th) in the semi-finals where Thirumala and Ramadas beat Ryan Moore and Udi Akolkar in straight sets, 6-1, 6-0.
The number one entry for North Allegheny, freshmen Evan Kaufman and Matt Kampi, earned a first round bye for being the top seed in the tournament.  They beat Seneca Valley's No. 2 team of Nathan Craig and Tom Beresnyak (No. 9 seed) in the quarterfinals 10-0.  Next for the Tigers were Pine-Richland's top team (tournament No. 4 seed) of Ian Hunt and Nathan Bang in the semi-finals.  Kaufman and Kampi dominated in a 6-2, 6-0 win to set up an all-Tigers matchup for the section crown.
With the two semi-final victories, two NA Tigers teams will now face each other Wednesday afternoon for the Section 2 Doubles Championship and the right to represent the section as the top entrant in the WPIAL Doubles Tournament.  The championship match time is set for 3 PM on the NASH courts.  Good luck Tigers!