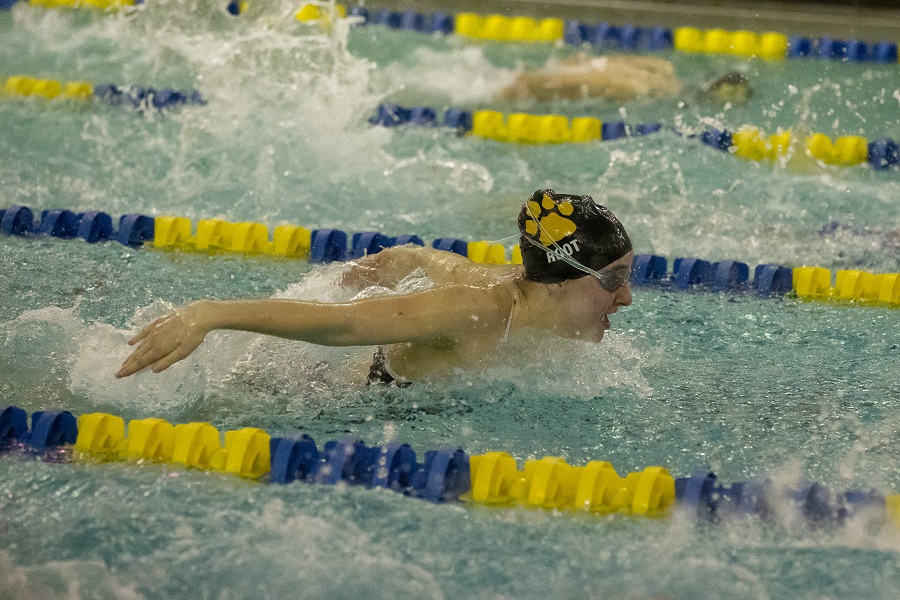 North Allegheny Glides By Hampton
The North Allegheny swimmers/divers girls and boys team traveled to Hampton and swam to a 97-86 victory for the girls and a 97-75 victory for the boys.
The girls were led by Quinn Frost who won both the 100 Fly and the 100 Back. Olivia Krause won the 50 Free and Mary Flavin won the 500 Free. Frost, Katie Oates, Krause and Nicole Marnell made up the winning 200 Medley Relay team while the winning 200 Free Relay team was composed of Isabella Dietz, Marnell, Kara Mihm and Flavin.
Branko Kosanovich led the boys with victories in the 200 Free and the 500 Free.  Alex Grahor won the 200 IM and Joel Songer touched first in the 100 Fly. Ricky Mihm completed the individual wins for the boys with his victory in the 100 Back.  The boys won all three relay events. The team of Grahor, Mihm, Hayden Klein and Songer won the 200 Medley relay. Grahor, RJ Swanson, Micah Phillips and Tolik Borisov touched first in the 200 Free Relay.  Grahor, Mihm, Borisov, and Songer completed the relay sweep with their victory in the 400 Free Relay
Both the girls and boys diving team had the top 3 finishers in their events. Eva Betz took first for the girls with Jordan Atkins second and Bailey Restelli third.  Dennis Knapp won for the boys with Liam Cross second and Lucas Rodgers third
The team travels to Wilkes Barre on January 11-12 for the All American Invitational.