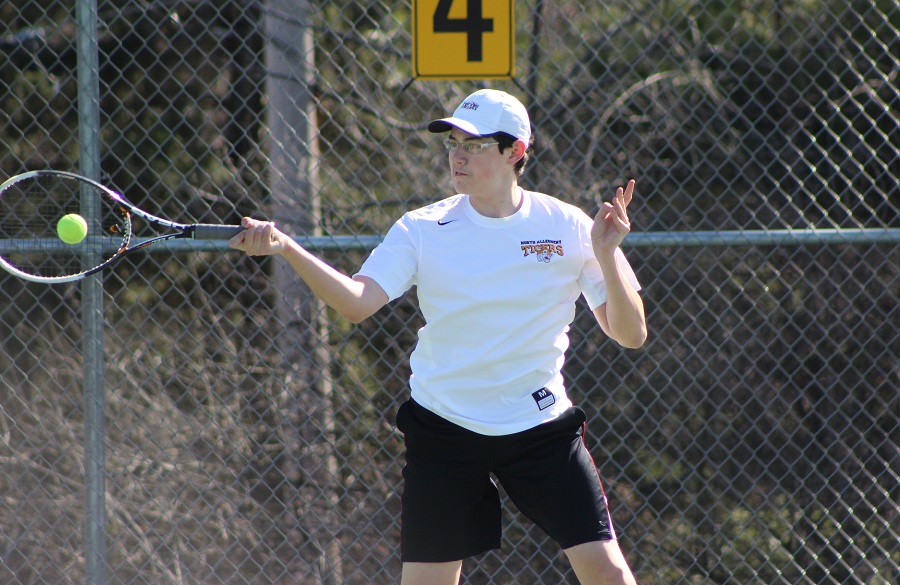 North Allegheny Sweeps Central Catholic in WPIAL First Round
In only their second home match of the year, the Tigers opened the 2018 WPIAL AAA team playoff campaign with a first round sweep of the Central Catholic Vikings Wednesday afternoon. The 5-0 victory was courtesy of five, straight-set matches.
The doubles teams claimed the first two points of the match, with juniors Mark Chuirazzi and Jerry Huang losing only one game at first doubles.  Senior Reed Stasko and junior Rohan Cowlagi duplicated that feat at number two doubles.  The clinching point once again came from senior Andrew Chuirazzi who lost only two games at third singles. Senior Ivan Voinov was pushed by Tim Smith but battled hard to claim the second singles contest.  Rounding out play, the fifth and final point came from Senior Captain Richard Hofmann who defeated Central ace Will Gatti at number one singles.
With the win, the Tigers raised their overall season record to 9-2. The Tigers advance to the quarterfinal round on a date and site to be determined, against the winner of the Upper St. Clair—Pine Richland matchup.  Please check back with the Tigers' web site for more information.
Match Summary – 04/18/2018
North Allegheny—5, Pgh. Central Catholic–0  
Singles
#1 Richard Hofmann (NA) def. Will Gatti (CC) 6-2, 6-3
#2  Ivan Voinov (NA) def. Tim Smith (CC) 6-4, 6-3
#3  Andrew Chuirazzi (NA) def. Stefan Cvetkovic (CC) 6-2, 6-0
Doubles
#1 Mark Chuirazzi/Jerry Huang (NA)  def. Michael Gleson/Will Rudolf (CC) 6-0, 6-1
#2  Reed Stasko/Rohan Cowlagi (NA) def. Anthony DiBello/Renne Cabacungan (CC) 6-1, 6-0