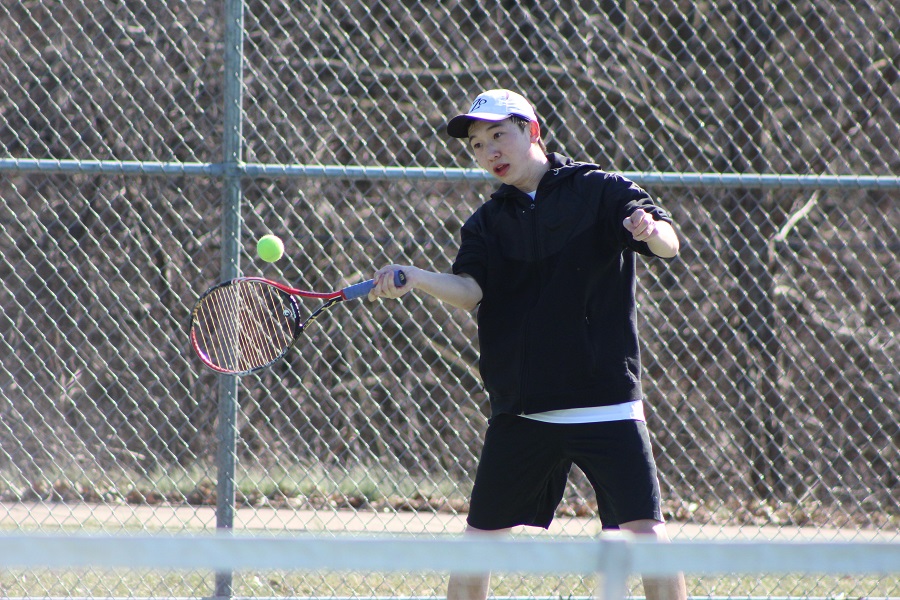 North Allegheny Sweeps USC in Playoff Tuneup
With the Section 2 crown already in hand, the Tigers wrapped up their regular season with an exhibition match against the Upper St. Clair Panthers Monday afternoon and walked away with a 5-0 sweep in a well-played matchup.
Senior Richard Hofmann led the way at number one singles by sweeping Ross Petrone without losing a game.  Senior Ivan Voinov followed suit with a straight set victory over Harrison Chui.  The clinching point came from senior Andrew Chuirazzi who battled Stefan Cvetkovic at third singles and took the contest in two sets, including a tie break to complete the win.  Juniors Mark Chuirazzi and Jerry Huang teamed up at number one doubles to slide past Josh Meyer and Shium Patel in three sets.  After splitting the first two sets, the NA tandem picked up a late break to win the 3rd set, 6-4. The final tally came off the racquets of senior Reed Stasko and junior Rohan Cowlagi at number two doubles.  Following a loss in the first set, the Tigers bounced back to take the next two with workman-like precision.
With the win, the Tigers raised their overall season record to 8-2. They open the WPIAL team playoffs at a site, time, and opponent to be determined following the seeding meeting.  Please check back with the Tigers' web site for more information as soon as it becomes available.
Match Summary – 04/16/2018
North Allegheny—5, Upper St. Clair–0  
Singles
#1 Richard Hofmann (NA) def. Ross Petrone (USC) 6-0, 6-0
#2  Ivan Voinov (NA) def. Harrison Chui (USC) 6-3, 6-1
#3  Andrew Chuirazzi (NA) def. Stefan Cvetkovic (USC) 6-3, 7-6 (2)
Doubles
#1 Mark Chuirazzi/Jerry Huang (NA)  def. Josh Meyer/Shium Patel (USC) 6-2, 3-6, 6-4
#2  Reed Stasko/Rohan Cowlagi (NA) def. Ayush Sharma/Nitesh Nagpal (USC) 4-6, 6-1, 7-5