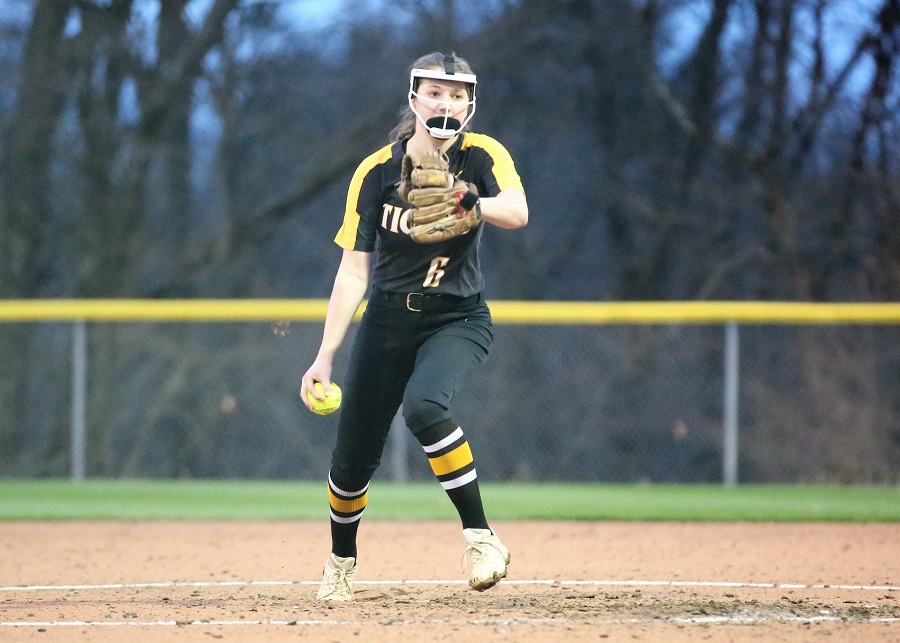 North Allegheny Wins Big Over Phillips Exeter Academy, 12-2
North Allegheny finished spring training strong with a 12-2 victory over Phillips Exeter Academy of Exeter, New Hampshire.
The Tigers scored first in the second inning with two outs. Junior Anne Melle started the offense with a double; she then scored on a misplayed fly ball hit by senior Reagan Sheets for a 1-0 lead.
Phillips Exeter answered back in the third, scoring two; however, the Tigers took the lead for good in the bottom of the inning. Sophomore McKenna Rowlands and senior Meghan McDonough started the inning with a single apiece, followed by a three-run home run by Melle.
The Tigers entered the bottom of the fourth inning leading 4-2, but their offense kept applying pressure. Junior Caitlin Logan drew a walk and after reaching third base, scored on a passed ball. Sophomore Sammy Plotsko earned an RBI with a sacrifice fly, and McDonough scored the third run of the inning on an infield error and the Tigers led, 7-2. After being held to a scoreless fifth inning, they scored five more runs in the sixth to invoke the 10-run rule and close out a 12-2 victory.
The Tigers tallied 10 total hits during the contest. Melle went 3-4 on the day with 3 total RBIs. McDonough also went 3-4 with 2 RBIs and a triple, while Sheets went 2-3. Plotsko earned two total RBIs as well as the win in the circle for the Tigers, holding Phillips Exeter to three hits and striking out 10.
The Tigers return to Pittsburgh to face the Shaler Titans away on Tuesday at 4:00.
Box Score - Softball vs. Phillips Exeter Academy - 03/18/2023
| Score by Innings | 1 | 2 | 3 | 4 | 5 | 6 | 7 | R | H | E |
| --- | --- | --- | --- | --- | --- | --- | --- | --- | --- | --- |
| Phillips Exeter | 0 | 0 | 0 | 0 | 0 | 0 | X | 2 | 3 | 4 |
| North Allegheny | 0 | 1 | 3 | 3 | 0 | 5 | X | 12 | 10 | 0 |
WP - Sammy Plotsko (2-0) LP - H. Alden