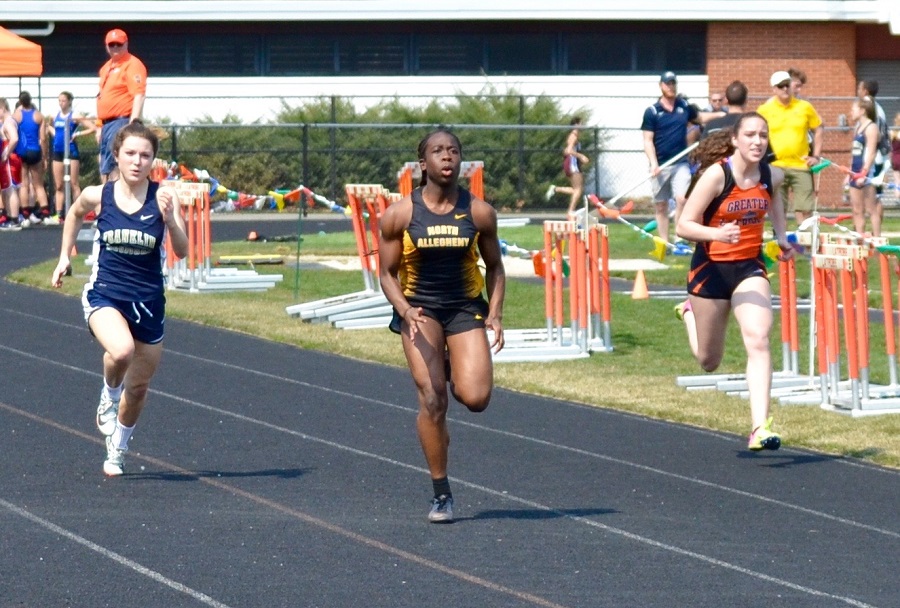 Owens, Pelusi, Burton crowned WPIAL Champs
It was a perfect weather day to showcase the finest track and field athletes in western Pennsylvania and the NA Tigers performed brilliantly at the WPIAL Individual Championship Meet.  Most athletes ran their season best performances, if not their person best.  Senior Clara Savchik placed 2nd in both the 1600m and 3200m Runs. Hannah Lindgren finished 5th in the 3200m Run.  Mikayla Logan earned a 6th place medal in the Shot Put.  Casey Burton was the only female crowned WPIAL Champion for the Lady Tigers as she jumped further than any other contestant in the Jong Jump.  Casey also finished second in the 100m Dash finals.  The 4x100m Relay team of  Bailee Miara, Morgan McConnell, Casey Burton, and Emily Naughton stood on the podium smiling with 6th place medals hanging on the necks. 
Two NA boys came home with 4 medals draped over their necks.  Junior Donovan Rice earned  3rd place honors in the 300m Hurdles, a 4th place medal in the High Hurdles ,  a 5th place medal alongside teammates John Vardzel, Precise Colon, and Joey Porter in the 4x100m Relay, and a gold medal in the 4x400m Relay.  Senior Ayden Owens captured gold and improved his personal best records in all 4 of his events, winning the High Hurdles, the 300m Intermediate Hurdles, the Long Jump and was the anchor leg of the winning 4x400m Relay team with Donovan Rice, Zach Ehling, and Jono Pelusi.  Zach also finished 7th in the 800m Run.  Winning the Jump-Off Tiebreaker to his rival from Butler, Jono Pelusi was crowned WPIAL Champion in the Pole Vault.  Other notable track finishes for the Tigers included Dan McGoey earning runner up honors in the 3200m Run,  Joey Porter placing 6th in the 200m Dash Finals, and the team of   Dan McGoey, Luke Turkovich, Cam Phillips, and Connor Foody  placing 4th in the 4x800m Relay.  In the field events Liam Nobbs placed 7th in the Pole Vault and 6th in the Javelin.  Richie Pajak finished 5th in the High Jump and 24th seeded Joseph Wamalwa tripled jumped to finish 6th place overall. 
Several of these Tigers qualified for the PIAA State Championship Meet which will be held at Shippensburg University on May 25th and 26th.