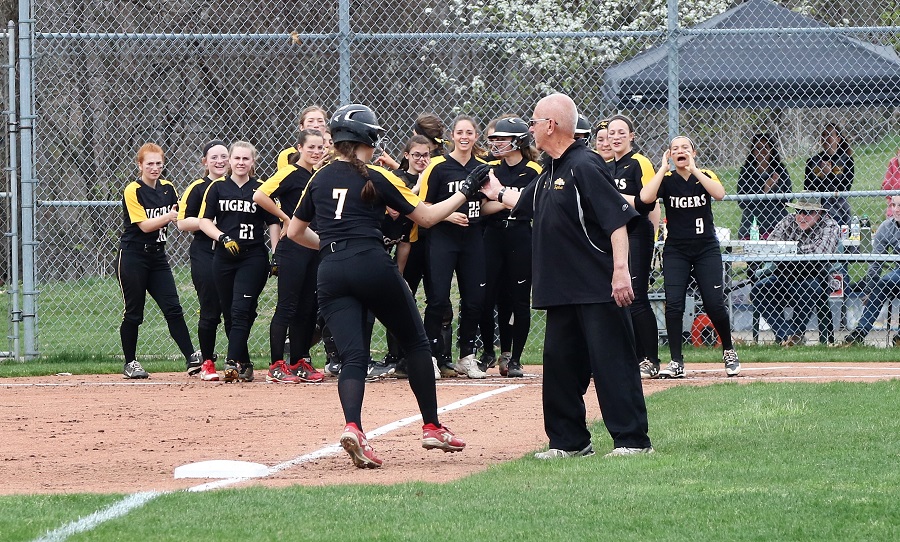 Pine-Richland Out-Muscled, 6-2
The North Allegheny Varsity Softball Team hosted the Pine-Richland Rams at NASH Field on Friday afternoon in a game delayed by lightning, but in the end it was the lightning in the Tigers' bats that led the way to an important 6-2 Section 3-AAAAAA victory over the visiting Rams to usher in Prom Weekend.
For North Allegheny, junior shortstop Kristen Chomos, junior pitcher Ashley Adams, and junior center fielder Brooke Serbin each had doubles, with Adams' double driving in two runs. The big blast in the contest was provided by freshman designated player Chloe Szczepaniak, who drove in two runs with a deep home run to center field to help widen the Tigers' lead.
For Pine-Richland, Julia Simpson also had a double, the Rams' only extra-base hit on the day.
Junior Ashley Adams picked up the win, with another excellent relief appearance by sophomore Sophia Dollard.
The win raises the Tigers' section record to 7-1 and their overall record to 10-6. The Rams fall to 4-4 in section and 7-6 overall. The Tigers will take the Prom Weekend off, but will return to action on Tuesday afternoon when they travel to Seneca Valley to vie with the Raiders.
Softball vs. Pine-Richland, 4-27-18
| Score by Innings | 1 | 2 | 3 | 4 | 5 | 6 | 7 | | R | H | E |
| --- | --- | --- | --- | --- | --- | --- | --- | --- | --- | --- | --- |
| Pine-Richland | 0 | 0 | 0 | 0 | 0 | 2 | 0 | | 2 | 7 | 2 |
| North Allegheny | 4 | 0 | 0 | 0 | 1 | 1 | X | | 6 | 8 | 0 |
WP - Ashley Adams LP - Cam Devinney