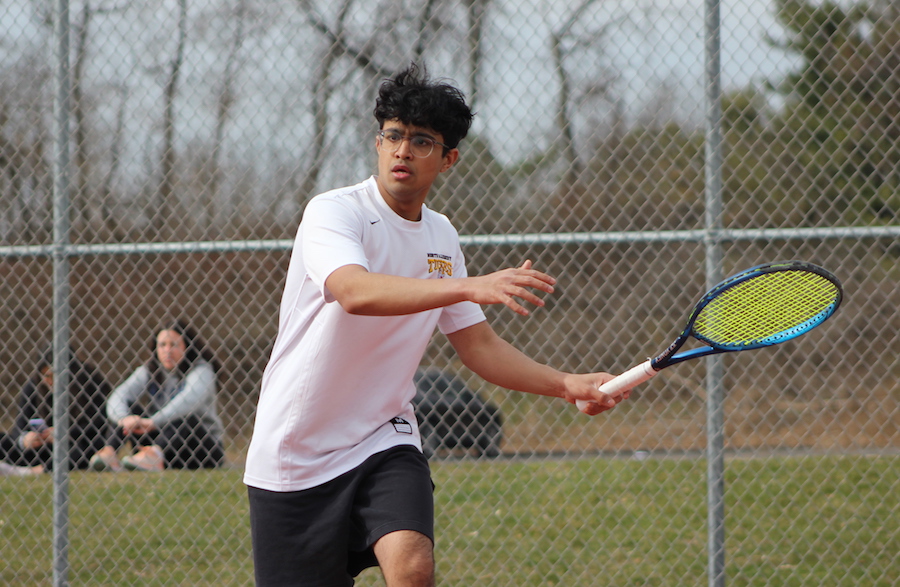 Planet NA and Planet Mars Collide in Section Match; Tigers Win 5-0
The Tigers' match-ups with Section 2 rivals continued Thursday afternoon, and under sublime weather conditions they defeated the Mars Planets on the NASH Courts, 5-0.  All contests were decided in straight sets.
Playing his first singles match of the year, sophomore Sri Thirumala provided the first point at third singles.  Freshman Evan Kaufman offered the second point from the second singles slot.  Clinching the match were senior Raj Ginde and junior Jeongwoo Cheon at two doubles.  Junior Amit Bhandari and freshman Matt Kampi took the honors at first doubles for the Tigers' fourth point of the match.  Closing out the contest at number one singles were two senior veterans, Manas Kathir of North Allegheny and Josh Dunham, of Mars.   Kathir took the first set 6-3 and was locked in a tight battle in the second.  After a surge from Dunham, Kathir broke twice around one hold to pull out a 6-4 win in the most competitive match of the day.
With the victory, the Tigers improve their overall record to 8-0 and move their section mark to 5-0.  The Tigers complete Section 2 play on Friday as they host the Seneca Valley Raiders on the NASH courts.  Match time is 3:30 PM.
Match Summary – 04/20/2023
North Allegheny 5, Mars 0
Singles
#1 Manas Kathir (NA) def. Josh Dunham (M) 6-3, 6-4
#2  Evan Kaufman(NA) def. Luke Crawford (M) 6-0, 6-1
#3  Sri Thirumala (NA) def. Miles Frasier (M) 6-0, 6-0
Doubles
#1 Amit Bhandari/Matthew Kampi (NA) def. Callihan Johnson/Evan Palmiero (M) 6-0, 6-1
#2 Raj Ginde/Jeongwoo Cheon (NA) def. Adam Bechtold/Ethan Palmer (M) 6-0, 6-3