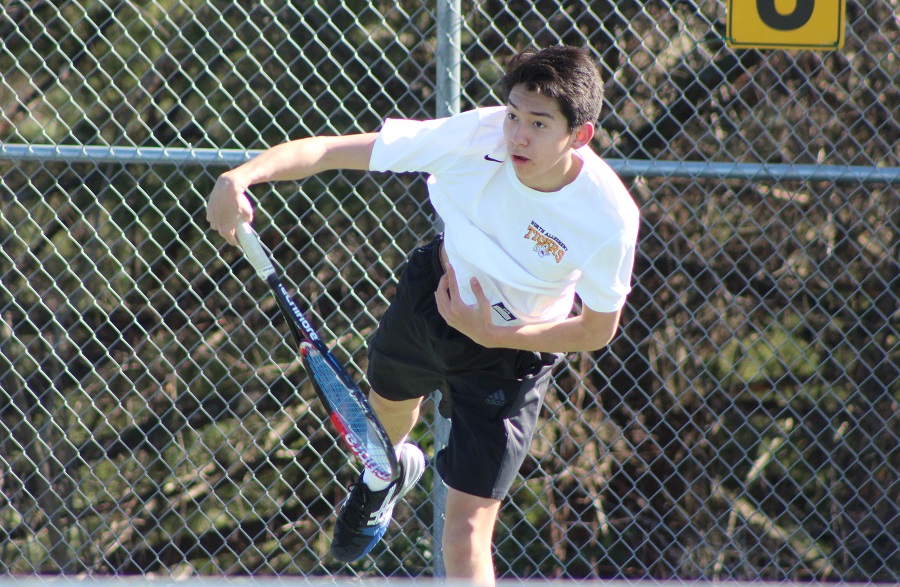 Richard Hofmann Reaches WPIAL Quarterfinals
The WPIAL AAA Singles Tournament commenced Thursday afternoon at The Club-Sport in Monroeville, and early round upsets were the feature of the day. Among the winning players was NA junior Richard Hoffmann, representing Section 2 and opening the WPIAL playoffs as the number ten seed.  His opponent was junior Naman Dua, of Shady Side Academy, who came out on top in a three-set dual match when the teams played in the WPIAL Quarterfinals last week.  The tables were turned this time by Hofmann who won a thrilling match as he upset the seventh seed.
Opening a ten game pro set with a 5-1 lead, Hofmann found himself in a battle as Dua crept back into the match and trailed only by an 8-7 margin. He won two more games to take a 9-8 lead.  Needing to hold serve to stave off elimination, Hofmann did so to even the score at 9.  Dua held and again Hofmann needed to author another hold to stay in the contest and force a tie break.  He did so with four outstanding serves while facing match point, and the tie break was on.  Trading counterpunches, the players see-sawed to a 5-5 score before Hofmann banged home two consecutive winners to take the tie break at 7-5.
The quarterfinal round saw Hofmann matched up against the number two seed, Connor Bruce of Peters Township. Both players stayed on serve until Bruce broke Hofmann serving at 4-3.  Playing well but in a catch-up mode, time ran out for Hofmann as Bruce prevailed 10-7.  It was a productive day for the Tigers who sent a player to the WPIAL Tournament for the sixth consecutive year.  Next up, the Tigers begin play in the Section 2 Doubles Championship with first round action Monday on the NASH courts.  Representing the Tigers will be the team of juniors, Richard Hofmann and Ivan Voinov, plus a team of sophomores, Mark Chuirazzi and Jerry Huang.  The action will begin at 12:30 PM
Match Results
May 4, 2017
WPIAL AAA Singles Tournament
First Round
Richard Hofmann (NA) def. Naman Dua (SSA) 11-10 (5)
Quarterfinal Round
Connor Bruce (Ptrs.) def. Richard Hofmann (NA) 10-7