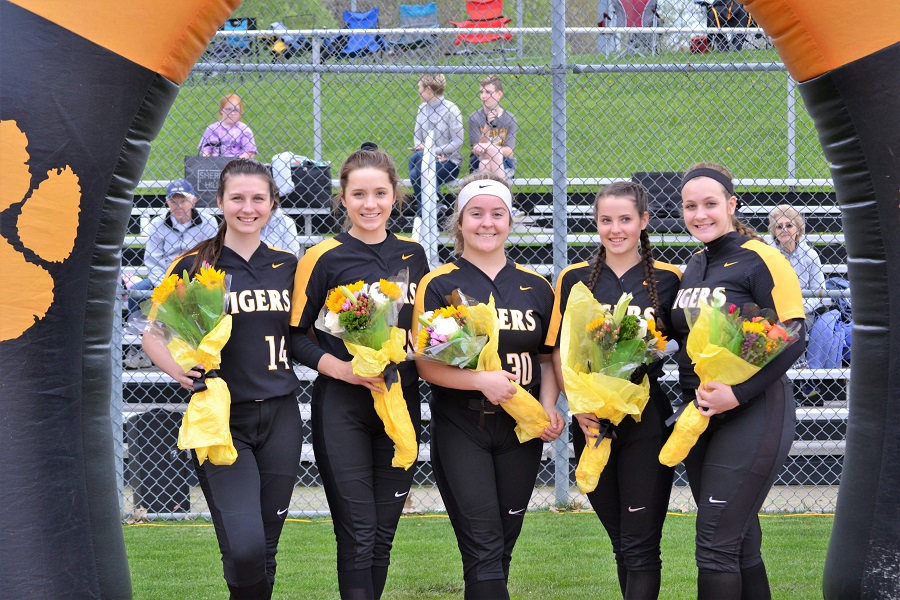 Seniors Lead NA to Section Victory Over Butler
Photo Gallery

After being recognized in a brief pregame ceremony, the senior North Allegheny Tigers led the way to a close victory over the Butler Tornadoes with a final score of 3-1. 
The Tigers took an early lead in the second when senior Regan Brodine led off with a double. Freshman Alaina Whipkey singled later in the inning to score Brodine.
The Tornadoes answered back, scoring in the top of the third. The score remained tied for the next three innings until the Tigers scored two additional runs in the sixth. Senior Kristen Chomos hit a double, scoring sophomore Kendall Trunzo from first. Sophomore Chloe Sczcepaniak then scored Chomos on a sacrifice fly to center field.
NA played strong defense, led by senior center fielder Brooke Serbin, who made a diving catch in the top of the seventh to keep the bases unoccupied. Senior Rachel Martindale also recorded two outs for the Tigers at shortstop.
Adams threw a complete game, giving up five hits and striking out six.  The Tigers are scheduled to play section opponent Pine-Richland at home on Wednesday at 6:00pm. 
Box Score - Softball vs. Butler - 04/29/2019
| Score by Innings | 1 | 2 | 3 | 4 | 5 | 6 | 7 | R | H | E |
| --- | --- | --- | --- | --- | --- | --- | --- | --- | --- | --- |
| Butler | 0 | 0 | 1 | 0 | 0 | 0 | 0 | 1 | 5 | 1 |
| North Allegheny | 0 | 1 | 0 | 0 | 0 | 2 | X | 3 | 4 | 0 |
WP - Ashley Adams (9-2) LP - Shelby Barnett