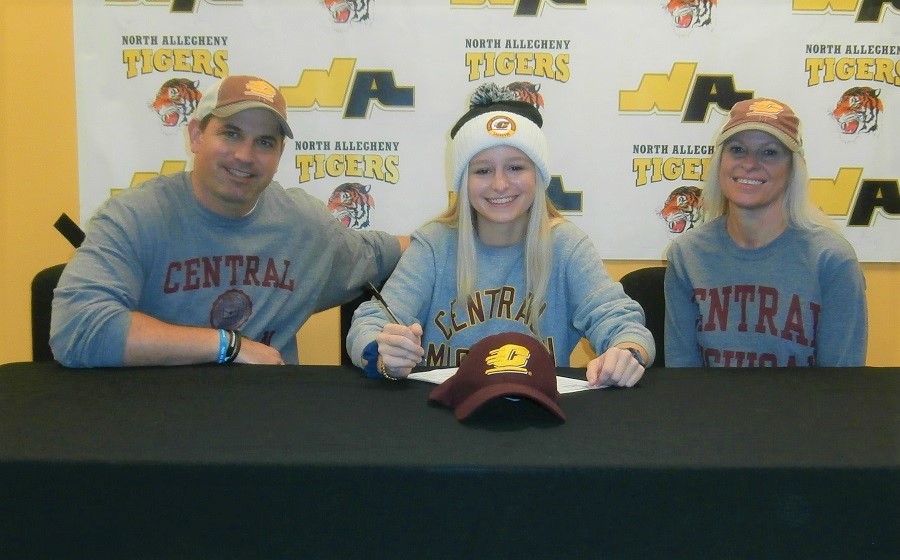 Skye DePrado Signs With Central Michigan University
North Allegheny senior Skye DePrado has signed her letter of intent to play collegiate women's lacrosse at Central Michigan University.
In DePrado's most recent season at North Allegheny as a sophomore in 2019, the talented forward tallied 97 points and scored 69 goals. She helped the Tigers to a 12-7 overall record and 7-4 mark in Section 2-AAA. In the opening round of the WPIAL playoffs, DePrado netted eight goals in a dazzling performance that propelled the Tigers an 18-8 triumph over Canon-McMillan and their first home playoff win in program history.
DePrado, along with six of her NA teammates, participated in the 2019 IWLCA Brine President's Cup Tournament last November. The IWLCA President's Cup, featured approximately 400 club teams with high school aged athletes from around the country in West Palm Beach, Florida.
DePrado will study Pharmacy at Central Michigan University. She is pictured above with her parents Tony and Stacy DePrado.