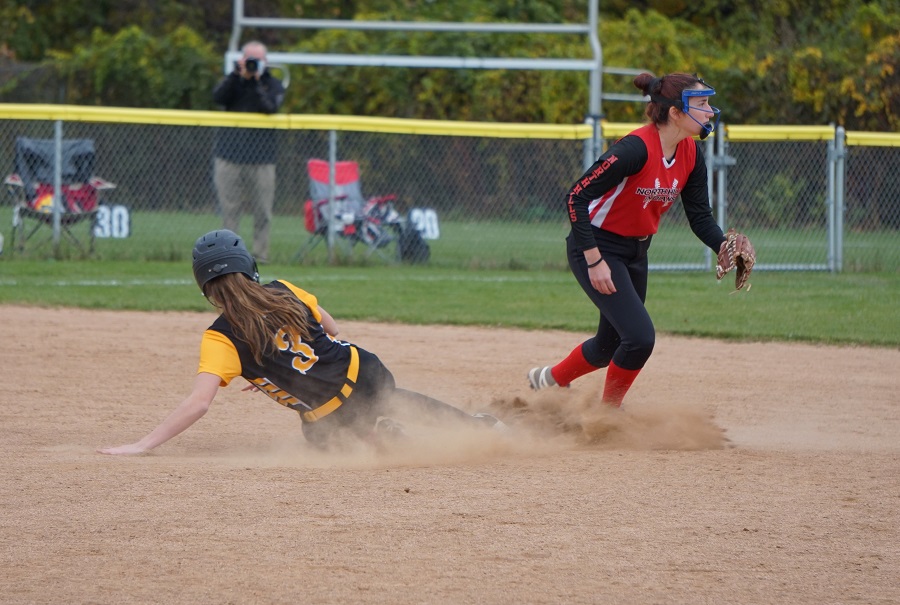 Slow-Pitch Softball Falls To North Hills in Season Finale
North Allegheny slow-pitch softball fell in their last doubleheader of the regular season to North Hills, 24-15 and 11-6, Sunday afternoon at Marshall Middle School.
Game one was tightly contested throughout as North Hills jumped out with four in the top of the first inning but North Allegheny responded with two of their own. Leading 5-3 in the third inning North Hills put together seven straight hits with two outs and extended their lead to 12-3. North Allegheny was trailing 12-5 in the bottom of the fifth when they exploded for eight runs of their own giving themselves their first lead of the day at 13-12. Audrey Laswell had the go-ahead RBI triple to score Emily Yanchak. North Hills though would respond with thirteen runs in the final two innings to pull away with a 24-15 win.
Megan Quinlan was the Wright Automotive Player of the Game going 4-for-4. Katie Marangoni had three hits while Nikki Crean, Evelyn Wiethorn, Lizzie Wetmore, Madi Klinefelter, Claire Medic, and Laswell all had two hits. Yanchak pitched for the Lady Tigers.
Game two was a defensive showcase for North Hills holding the Tigers scoreless until the fourth inning where Marangoni and Klinefelter had RBIs in the inning and was able to cut the lead to 7-2. North Allegheny could never really get it going offensively and ultimately lost the game 11-6. Marangoni was the Wright Automotive Player of the game going 2-for-3 with an RBI double and a single. Wiethorn also added two hits along with Medic and Laswell.
North Allegheny finishes the regular season at 9-5 while North Hills finishes at 10-4. Up next for the Tigers and Indians will be the WPISL Playoffs next weekend.