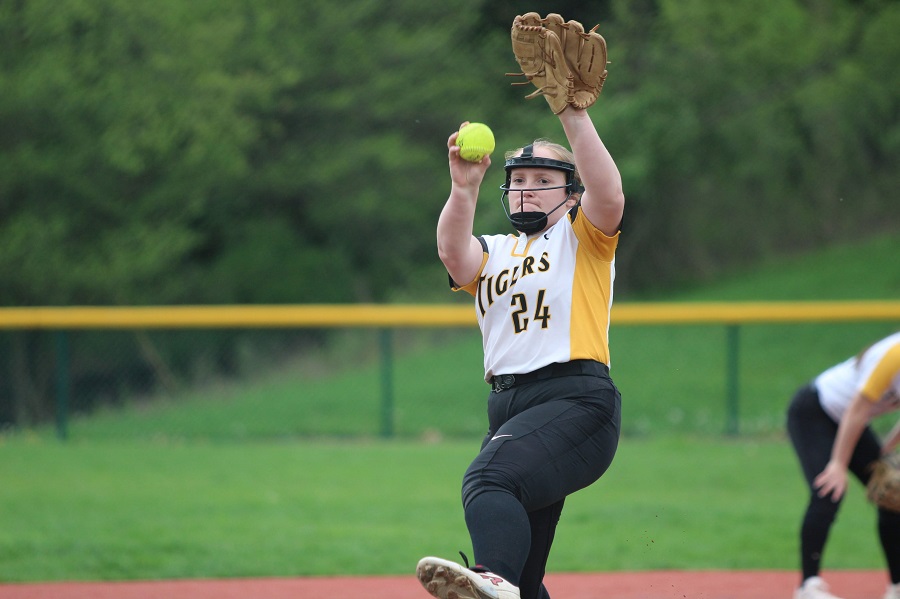 Student-Athlete Profile: Senior Pitcher Audra Sapp
If you've been to a North Allegheny sporting event, you may have already seen Audra Sapp patrolling the sidelines with her video camera. The senior is an aspiring sports videographer and a member of the North Allegheny softball team. She developed an affinity for both at a young age.
"I always had a big passion for video. Back in middle school I would take videos of everything," said Sapp.
Sapp's appreciation for sports videography grew during her junior year of high school.
"I took a media class and asked my teacher if I could shoot a football game. From the moment I first started shooting sports I fell in love with it."
While at North Allegheny, Sapp has produced dozens of videos for various athletic teams. Her most recent project was a highlight video of the 2020 WPIAL Class 6A girls' basketball championship game. (Video is at the bottom of this article.)
Next year, Sapp will attend The Media School at Indiana University in Bloomington where she'll pursue a specific major in Sports Media. Mark Cuban, a 1981 alum of Indiana and owner of the Dallas Mavericks, donated $5 million for the Center for Sports Media Technology at Indiana, a facility that now bears his name.
For Sapp, the decision to attend Indiana was an easy one.
"They have students specifically working through their athletic department to make videos and graphics. I was so drawn to it when I visited Indiana. I just loved it."
Before she took on sports videography, Sapp began playing softball when she was five-years old. Last spring as a junior relief pitcher for the Tigers, Sapp provided plenty of playoff heroics during North Allegheny's magical run to the WPIAL title game and a 15-8 overall record.
In the WPIAL quarterfinals, Sapp recorded a victory in a come-from-behind win over Upper St. Clair. At a critical juncture of the game, Sapp entered in relief and held USC at bay by permitting only one run in the final three innings. Kristen Chomos' three-run homer in the bottom of the sixth provided the offense necessary for a 3-2 victory.
In similar fashion, Sapp inherited a sticky situation in the WPIAL semifinals against Norwin. With the Tigers clinging to a 6-3 lead, Sapp entered the game in the top of the sixth with one out and the bases loaded with Knights. Again, Sapp pitched NA out of danger and earned the save in what turned out to be an 8-4 playoff triumph.
"I knew that I had such an amazing team behind me and I knew that I had been working all season for that moment. I was prepared and I was ready. I was very grateful for the opportunity to pitch for my team."
The 2019 North Allegheny softball team and season will always be a memorable one for Sapp.
"The group of girls that we had and the passion that we had to win was just indescribable."
While her performance on the field is notable, what gives Sapp great satisfaction is capturing the athletic achievements of her fellow North Allegheny classmates.
"It's life changing. Seeing sports and my community through the lens completely shifted my perspective on everything. I know personally as an athlete how those game moments feel. Being able to capture my friends and my classmates living those moments; there's nothing like it."