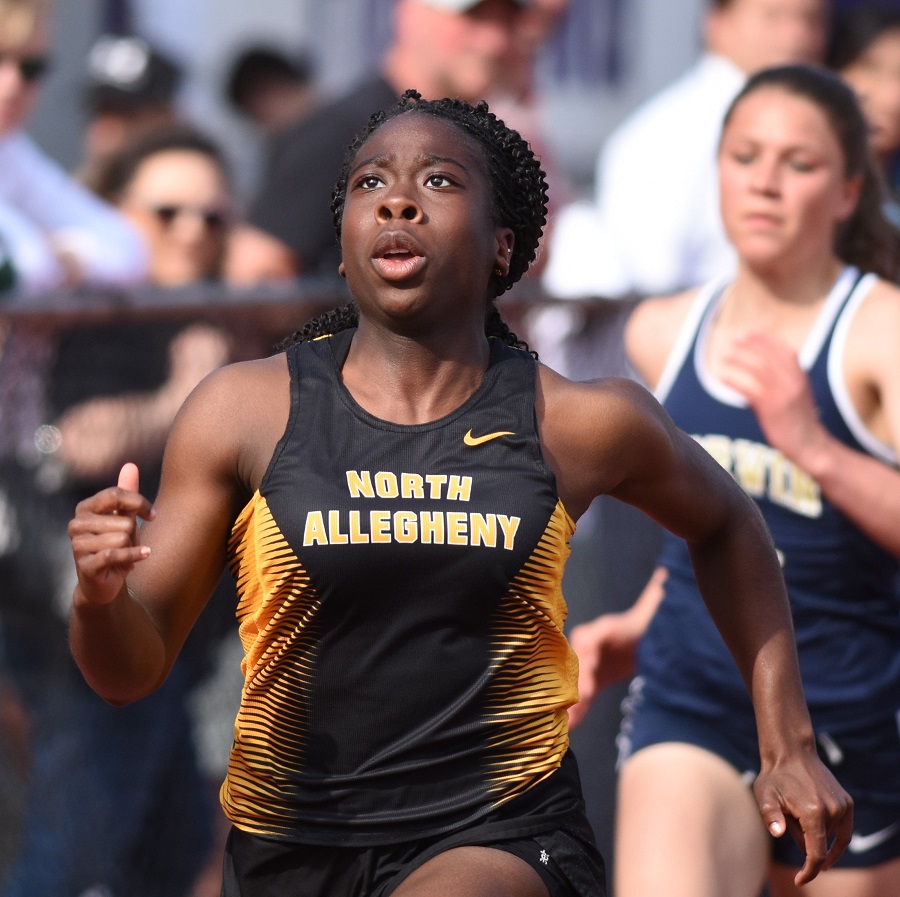 Student-Athlete Profile: Senior Casey Burton
Five years ago, senior Casey Burton and her family moved to Pittsburgh from Virginia Beach, Virginia. To get better acquainted with the new surroundings at North Allegheny, Burton's parents, John and Carolyne, encouraged her to join the track and field team to make friends at her new school.
While track and field began initially as a way for Burton to mingle with her new classmates, the WPIAL long jump champion has soared to new heights in the sport and will continue her career next season at Princeton University.
"The team had a really wonderful dynamic that I wanted to be a part of," said Burton of Princeton. "The school also has a really great balance of academics and athletics so I don't have to sacrifice either in order to be good at both."
At North Allegheny, Burton has certainly excelled in both the classroom and in track. Fashioning a 4.3 GPA, Burton is the school outdoor track record holder in the 100 meters, 200 meters, Long Jump and 400 Relay. She also owns the school indoor track record in the 60 meters and Long Jump.
Most recently at the PTFCA Indoor State Meet at Penn State University on March 1, Burton won state gold in the Long Jump (19'1"). In dramatic fashion, Burton provided her best jump of the day on her final attempt.
"It was an awesome feeling even though I was very sick that day…I wasn't feeling my best. It was a great feeling to be able to keep my cool and get that last jump that I knew I had in me."
Among a laundry list of accomplishments, Burton was named second-team all-state as a junior last spring for her outstanding performance at the PIAA championships. Burton won PIAA silver in the Long Jump, just a week after winning WPIAL gold in the same event.
Competing for a North Allegheny track and field team that perennially challenges for a WPIAL and PIAA title, the camaraderie among Burton and her teammates is immense.
"Doing rep after rep together, we push each other and we help to pace each other. We cheer each other on when things get tough. It's a great atmosphere to be in."
Joining in that atmosphere is Burton's younger brother, J.R., a sophomore who competes in short sprints and hurdles. Perhaps looking to following in his older sister's footsteps, J.R. is considering picking up the Long Jump as well.
Serving as an inspiration to Burton and her tremendous career are Olympic gold medalists, Allyson Felix and Brittney Reese. Reese specializes in one the events Burton has had much success, the Long Jump.
"Allyson Felix is amazing how she has been a trailblazer for women. I think those two are really amazing athletes."
Burton will look to continue her own legacy at Princeton University where she will join one of the top programs in the Ivy League. She plans to study Biology at Princeton.
(Photos from 2019 WPIAL Championships by Will McBride.)