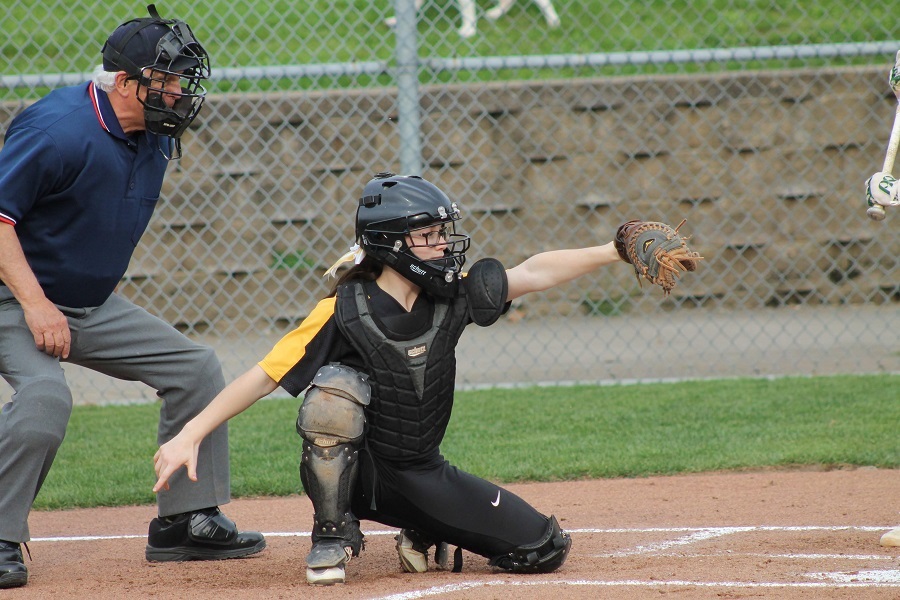 Student-Athlete Profile: Senior Catcher Lauren Harris
As a catcher on the North Allegheny softball team, senior Lauren Harris has continued in a long line of outstanding Tiger backstops. One of those remarkable catchers is Liz Scherer, a Big 56 Conference all-section performer, who graduated from North Allegheny in 2016.
Approaching her own graduation from North Allegheny in the coming months, Harris will again follow in Scherer's footsteps next year when she'll join the Grove City Wolverines in Division III's Presidents' Athletic Conference. Scherer is currently a senior at Grove City and a two-time All-PAC honoree.
"The campus has an at-home atmosphere," said Harris of Grove City College. "When I visited there, I felt like that's where I belong."
With a four-year disparity between the two players, Scherer and Harris never played on the same team. However, when in eighth grade, Harris had the opportunity to watch Scherer play and immediately came to admire the upperclassman.
"I thought she was a phenomenal catcher," said Harris. "I aspired to be like (Liz)…and have the leadership role that she had."
Similar to Scherer, leadership has certainly been the trademark for Harris in her North Allegheny career. A three-year starter at catcher, Harris has a great command of her pitching staff and ability to direct her teammates thanks to a high softball I.Q.
"Lauren has everything that a team needs in a catcher; not only the physical skills for the position, but the knowledge of the game and ability to make quick and important decisions," said North Allegheny head coach Morgan Vescovi. "She's worked very hard to get where she is, but is also never satisfied and pushes herself and her teammates to become better.  She's such a valuable asset and a tremendous leader in these respects."
For Harris, the cerebral part of the game is pivotal to individual and team success.
"It's the most important thing about catching," said Harris. "The mental game has to be there from experience and lots of practice. It takes lots of studying of pitchers and knowing what's working that day, and knowing all the plays to the fullest so that everyone is in the right position at the right time."
A prime illustration of Harris' softball knowledge came last season in a crucial midseason game with section rival Hempfield. The Tigers were clinging to a one-run lead with nobody out in the top of the seventh and the Spartans brought on a pitch runner, Sydney Mitchell, at first base following a lead-off single. Before Mitchell could get comfortable, Harris immediately fired a back-pick throw to Bri McDonough at first base for the tag out and helped preserve a 4-3 victory for North Allegheny.
While defense is certainly the forte in Harris' abilities as a catcher, she also has a great knack for reaching base when in the batter's box. Last season, Harris walked 14 times and had one hit by pitch, while striking out only four times in 54 plate appearances.
"Definitely being a catcher helps with batting. As a catcher, I focus on release point so much," said Harris. "I can see what the pitcher is throwing on their release point and I can see the ball very well."
Harris attributes much of her success as a varsity catcher to North Allegheny assistant coach, Heather Andrews, a former catcher at the University of Pittsburgh.
"One of my biggest role models in my life is Coach Andrews," said Harris. "Her and I started working together since before she was a varsity coach at North Allegheny. She pushes me because she knows my capabilities and my potential as a catcher. She knows my goals and helps me reach all of them."
With Harris behind the plate last season, North Allegheny earned a share of the Section 2-6A title with a 15-8 record and reached the WPIAL championship game with dramatic playoff wins over Upper St. Clair and Norwin along the way. Despite a loss to Hempfield in the title game, the Tigers did qualify for the state playoffs for the second time in the last three seasons.
"It's been a wonderful journey," said Harris. "I'm so happy I've been a part of so many of the wins and even some of the losses. I'm happy to have contributed everything I could to every game and I'm going to miss it."
Continuing her softball journey at the collegiate level next season, Harris plans to major in Mathematics at Grove City College.