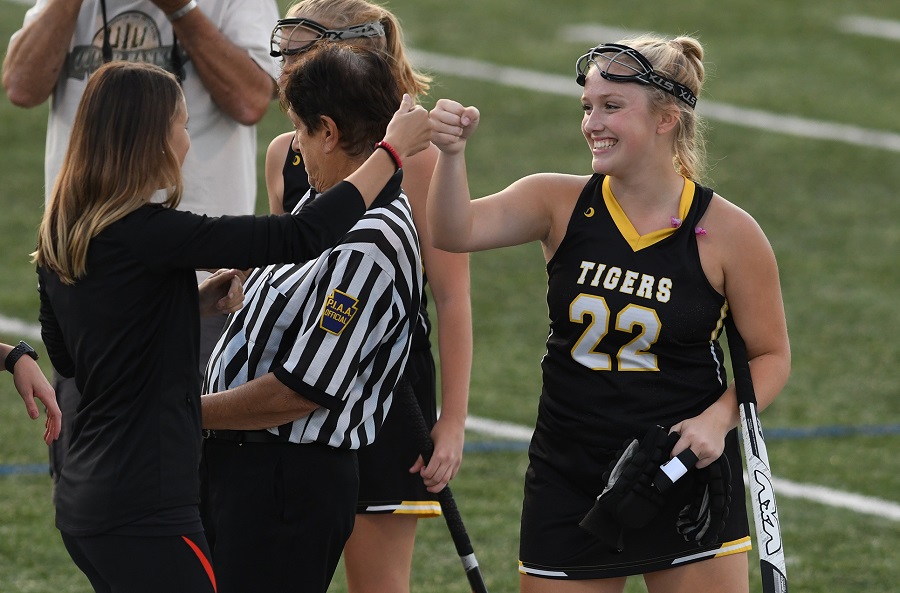 Student-Athlete Profile: Senior Defenseman Maya DeNoma
One of the anchors of the North Allegheny field hockey team, senior Maya DeNoma was a hard-nosed defenseman and All-WPIAL performer for the Tigers this season. However, growing up as a competitive gymnast, DeNoma didn't even like field hockey until it was forced upon her by her older sister, Lily.
"My sister and her friends all forced me to do it," said DeNoma. "I hated field hockey so much at first."
During the winter of her sixth-grade year, DeNoma reluctantly began her field hockey career at the urging of her older sister. Despite being hesitant at first, DeNoma quickly began to enjoy the sport.
"I met some of my best friends in that first class, Kate Adams and Ally Barcaskey. Around seventh grade when Hailey (Wachowiak) and Izzy (Ingram) joined the team, that's when it really clicked with me."
From that point on, DeNoma's love for the sport grew rapidly and by the time she was a freshman, she had the opportunity to play on the same field as her biggest role model.
"(Lily) was the biggest influence in my career," said DeNoma of her older sister. "My freshman year, I had such a goal to make varsity and she would get me up every single morning and we would do conditioning. She always pushed me to be better without even knowing it."
With the guidance of her sister and All-WPIAL standouts from the Class of 2017, including Brooke Cameron, Erin Coran and Katie Shideler, DeNoma was a cross over varsity/JV player her rookie season and jumped into a full-time varsity role by her sophomore year.
After a successful sophomore campaign at North Allegheny, DeNoma suffered a back injury during the winter club season that proved troublesome for her junior year at NA. Coupled with a concussion, which cost her two weeks at the beginning of her junior season, DeNoma played the through the nagging pain in her back throughout 2018.
"I did have to put in a lot of work and that season was really a struggle. I went to the chiropractor after every single practice but it really paid off to have my senior year be injury free."
Feeling completely healthy in 2019, DeNoma and the Tigers were primed for a big season. After an 0-3 start to the year, North Allegheny, a perennial playoff contender, claimed a crucial section victory at Norwin on Sept. 11. It was not only the season's turning point, but the most memorable victory in DeNoma's career.
Despite some bad breaks during the course of the contest, North Allegheny scored the game-winner on a penalty corner with 5:38 remaining in overtime. DeNoma sent in the corner and Wachowiak netted the winning goal for a 2-1 triumph over the Knights.
"It was the most exhausting and exciting moment of the season. That game really proved to all of us that no matter what we're handed, we all have to stick to our grounds and play like we play."
The victory at Norwin sparked NA toward a 6-3 section record and a return trip to the WPIAL playoffs. It was also a successful season for DeNoma and the Tigers defense, which posted four shutouts in 2019. By seasons end, DeNoma was one of four NA players named to the All-WPIAL team, claiming first-team honors.
"That was a really happy moment for me. All of the girls on that list, I've played against and I know them and they're all so amazing…I had never been recognized like that and to be recognized with such a great group of girls, I was really humbled by it."
One of the senior captains, DeNoma was the unquestioned vocal leader of the 2019 Tigers team.
"The girls call me the mom of the team…I've always made sure that I'm the teammate that they can go to for position help because I've played every position except goalie. I make sure that I'm the bodyguard for them."
Outside of field hockey, DeNoma is involved in TigerThon, the Best Buddies program and the Young Life Christian youth group.
While she won't play field hockey in college, DeNoma will continue the family tradition of academics at Ohio University. Her older sister, Lily, is currently a junior at OU and her parents both graduated from the institution as well. DeNoma plans on studying Early Childhood Education and Special Education and hopes to be a teacher one day.