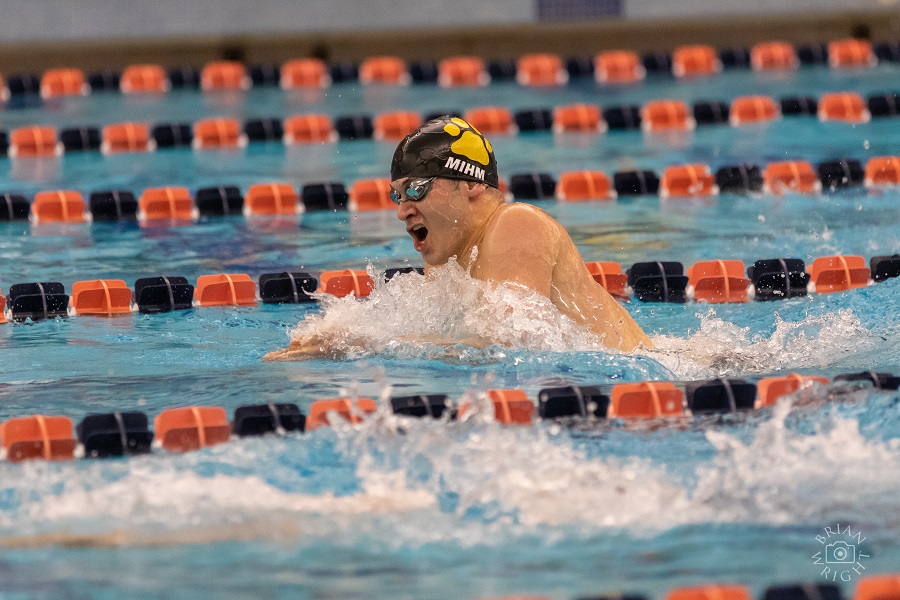 Student-Athlete Profile: Senior Rick Mihm
North Allegheny senior Rick Mihm is regarded as one of the top high school swimmers in the country. Mihm dabbled in various sports growing up, including cross country, track, basketball and baseball. The second oldest of five siblings, Mihm credits his older sister, Kristine, as his most motivating influence in pursuing swimming as his career sport.
"I think she has always been a big influence for me growing up," said Mihm of his older sister, who is now a sophomore at the University of Richmond. "I remember always going to watch her meets when I was in middle school and I always wanted to be on the high school team when I was younger.
"I looked up to her for the work ethic that she put in for swimming…and also her work ethic in school. It drove me to be a better person and athlete."
That work ethic has helped Mihm become an elite swimmer on the most dominant swimming and diving team in the WPIAL. Among his many accolades while at North Allegheny, Mihm is a four-year All-American, a 14-time WPIAL gold medalist (six individuals and eight relays) and nine-time PIAA gold medalist (four individuals and five relays). Additionally, he is a 16-time state medalist.
As a unit, the North Allegheny boys' swimming team has won three PIAA crowns and four WPIAL titles during Mihm's tenure on the varsity roster. This winter, the Tigers extended their streak of WPIAL championships to nine in a row. Mihm is proud to be a part of the NA legacy.
"When you first join the team as a freshman, there's an expectation that you're going to give everything you have to keep that streak going. I think we do a really good job of having a next-man up mentality. Even when a really good class (graduates), it's your job to fill the role that they are leaving behind."
As a sophomore at the 2018 PIAA championships, Mihm was part of a 400 free relay, which included Mason Gonzalez, Andrew Zhang and Jack Wright, that not only won state gold but also broke a national record. With a time of 2:53.81, they not only surpassed their own National Public School Record but also eclipsed the famed Bolles School independent record set in 2012.
"When we first got (the record), I didn't realize how big of an accomplishment it was. (Olympic medalist) Ryan Murphy, who was a member of that previous relay record, tweeted at us. That was when it set in that it was a big accomplishment. I'll always remember that record."
After spending his high school career with a preeminent North Allegheny program, Mihm will join another swimming powerhouse at Stanford University, winners of eight NCAA championships.
"Stanford has a great swimming program. I have a great class that I'm coming in with and we have some big expectations."
At Stanford, Mihm will also reunite with his former record-breaking teammate, Mason Gonzalez. Gonzalez recently completed his sophomore season with the Cardinal.
While Mihm will soon be leaving for the west coast, his time swimming for North Allegheny and head coach Patrick Wenzel will be something he'll always cherish.
"I think what we have at North Allegheny is second to none. You can't really find it anywhere else in the WPIAL."