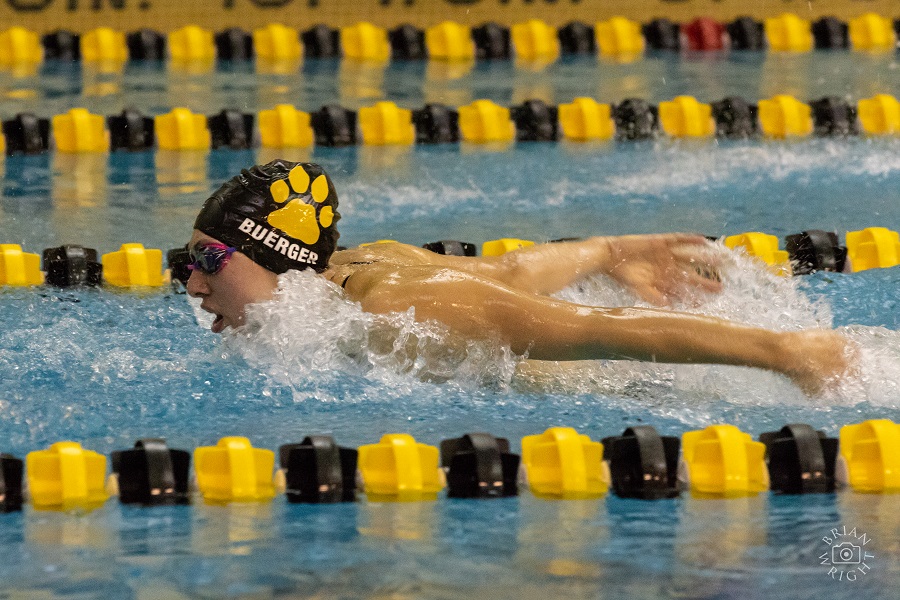 Student-Athlete Profile: Senior Torie Buerger
The fourth of four siblings, who have all won championships at North Allegheny, senior Torie Buerger has carried on a winning legacy that endures within her family and the Tigers swimming program.
This era of excellence began with oldest brother Jonathan (University of Virginia) in 2007 and continued with Matthew (Notre Dame), Zachary (Princeton) and Torie Buerger through this season. The three brothers were members of numerous team championships and combined to win seven WPIAL individual titles and six PIAA crowns from 2009-2014.
"I started swimming at five or six-years old," said Torie Buerger. "I went to all my brothers' meets and I was always in the stands watching them. I always wanted to be like them and be as successful as them."
The youngest Buerger made an instant splash as a freshman during the 2016-2017 season and won a WPIAL championship in the 100 Backstroke. This event is one that Buerger dominated over the years, claiming WPIAL gold in all four years of her career.
Among a lengthy list of accomplishments, Buerger is a four-year All-American, a 16-time WPIAL medalist, including 10 WPIAL gold medals, and a 13-time PIAA medalist, including two state gold medals. She also owns NA varsity record for the 100 Freestyle and 200 IM. Additionally, Buerger has the NA pool record in the 200 IM and 100 Backstroke, and is part of the pool record in the 200 Medley and 400 Free Relay.
One of the most thrilling victories in her career came in the PIAA Class AAA championships last month at Bucknell University. Competing in the 200 IM, Buerger finished in a first-place tie with Muhlenberg's Cameron Ring.
"I just went as fast as I could, looked at the board and it was the best moment of my life. I looked at my family and they were all cheering. Especially tying with Cameron – after we got out of the water, we hugged each other and it was the most special thing ever."
Buerger also was part of the 400 Free Relay team that won PIAA gold last month.
Along with the individual accolades has come a wealth of team success. Buerger has been a part of four WPIAL championship teams. With this season's title, the Lady Tigers extended their streak of championships to 12 in a row to set a new WPIAL record. The North Allegheny girls' swimming team also took third place at states this season.
During her four years on the varsity roster, Buerger believes her athletic and personal growth has been immense.
"When I came in, I was definitely very nervous. As I went by through the years, I definitely became more comfortable and more confident. It helped me become a better leader."
The desire to become a champion is something that permeates throughout the NA swimming team. That competitive edge is part of what makes the Tigers so dominant in the WPIAL.
"At practice, we are always keeping each other going and pushing each other. Molly Smyers is one of my biggest training partners. We always were racing each other in practice but we're also really good friends. We always cheer each other and support each other."
Along with swimming, another one of Buerger's passions in life are horses.
"I started riding when I was probably 10-years old and I've been riding ever since then."
Buerger volunteers at the Orchardview Stables, a non-profit organization in Wexford, which provides equine assisted activities and therapies for adults and children.
In college, she plans to combine her interests at the University of Kentucky next year. Buerger will be a part of the swimming team at UK and plans to major in Animal Sciences. She hopes to be a veterinarian one day.