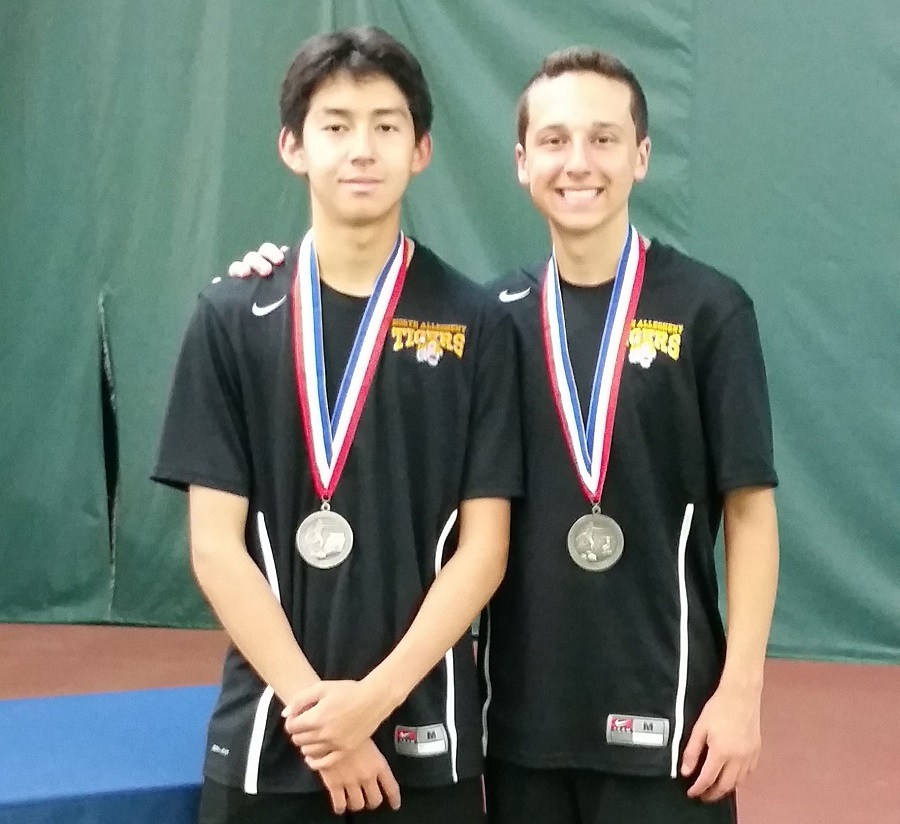 Three-peat Bid Falls Short, NA Duo Takes PIAA Silver
Searching for a third straight North Allegheny PIAA AAA Doubles Championship on Saturday, the duo of senior Jared Isaacs and sophomore Richard Hofmann took the semi-final match at the Hershey Racquet Club but fell in the finals, taking home silver medals in the process. First they swept past the team of Dante Falcucci and Jacob Jastrzebski from Hershey High School, of District 3, in straight sets.
The championship match pitted the Tigers against Joe DeMarco and Matt DeMarco from Erie Cathedral Prep in District 10.  The first set saw the Tigers leading 6-5 in games but down 40-0 with the Ramblers serving. Battling back, Isaacs and Hofmann chipped away, broke serve, and claimed the set in thrilling fashion.  The second set saw a role reversal.  With a championship match point in their reach, and up 6-5, the Tigers missed an opportunity to break and win.  The DeMarco brothers held serve and won the subsequent tie-break and the third set.  The Tigers, WPIAL champions, completed a successful doubles year by sweeping every set in Section 2 and WPIAL competition, and in PIAAs before Saturday's epic final.
Hofmann will return as a cornerstone of the program going into his junior year. Isaacs, a Duquesne recruit, completed one of the most successful individual seasons and careers in North Allegheny Tennis history.  He was the Section 2 singles champion, Section 2 doubles champion and WPIAL Doubles champion (with Hofmann), not to mention PIAA runner-up this season.  His overall career record in PIAA competition, including team play, was an astonishing 11-3.  He is the first Tiger to reach the PIAA finals, doubles or singles, for three consecutive years.  Congratulations to Jared!
Day Two, PIAA AAA Doubles Championship (5/28/16)
Semi-Final Round
Jared Isaacs/Richard Hofmann (NA) def.  Dante Falcucci/Jacob Jastrzebski (H) 6-2, 6-2
Championship Match
Joe DeMarco/Matt DeMarco (ECP) def. Jared Isaacs/Richard Hofmann (NA) 5-7, 7-6 (1), 6-3