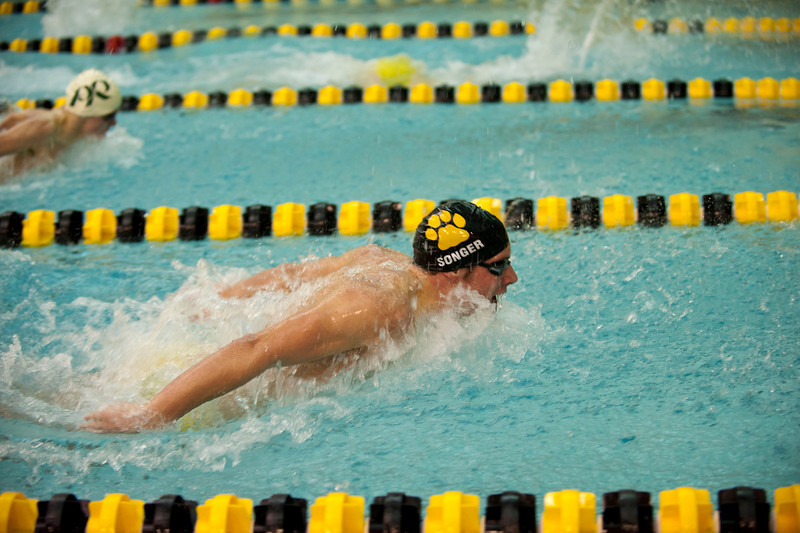 Tigers Batter Rams
by NA Swim Contributor
North Allegheny downed Pine-Richland in WPIAL AAA Section 2 action on Thursday night at the NASH Pool.  Final tallies for the Tigers showed the Girls winning by a score of 102 – 76 and the Boys by a final of 101 – 72.  The storyline of the evening has become a familiar theme for this season as the Tiger Girls enjoyed 1-2-3 finishes in seven events, while the NA Boys saw place sweeps in three different events on the night. 
For the NA Girls, Sophomore Taylor McClellan won the 200 Yard Freestyle with a time of 2:02.72 while Freshman Eliza Ross was just behind her in second and Senior Co-Captain Abi Rubio finished in third place.  The Tigers then turned around and swept the 200 Yard Individual Medley event when Junior Kayla Churman touched the wall in 2:17.85 followed by Freshman Anna Verardi in second place and Sophomore Christine Sun in third.  In the 100 Yard Freestyle sprint, the NA Girls saw the Freshman trio of Caitlyn Edwards, Megan Christy, and Dani Torres finish in the second, third, and fourth places of the race.  Showing the true strength of their team, the Tiger Girls swept the first three places of the 200 Yard Medley, 200 Yard Freestyle, and 400 Yard Freestyle Relay events on the night. 
The Tiger Boys saw a winning swim in the 200 Yard Freestyle from Sophomore Michael Struk who touched in 1:53.61 and was closely followed by Senior Gabe Gaspar.  The 200 Yard Individual Medley saw Junior Greg Arnold take first place with a time of 2:02.40 and Senior Josh Tonti take third place.  Arnold also took first for NA in the 100 Yard Breaststroke with a WPIAL qualifying time of 1:05.81 and was followed by fellow Junior Jake Krivacs in second and Sophomore Daniel Songer in third place.  The NA Boys also showed their depth in the 100 Yard Freestyle with Freshman Sawyer Smith, Junior Dan Meehan, and Freshman Stephen Wu finishing in the second, third, and fourth places.  Also contributing strong swims for the NA Boys on the night in the 100 Yard Backstroke were Junior Max Staresinic who touched first with a time of 57.04 seconds and fellow Junior Peter Neal in second place. 
The Tigers step out of WPIAL AAA Section 2 action for competition this Tuesday, January 28 when they travel to Franklin Regional for a meet starting at 5:00 PM.