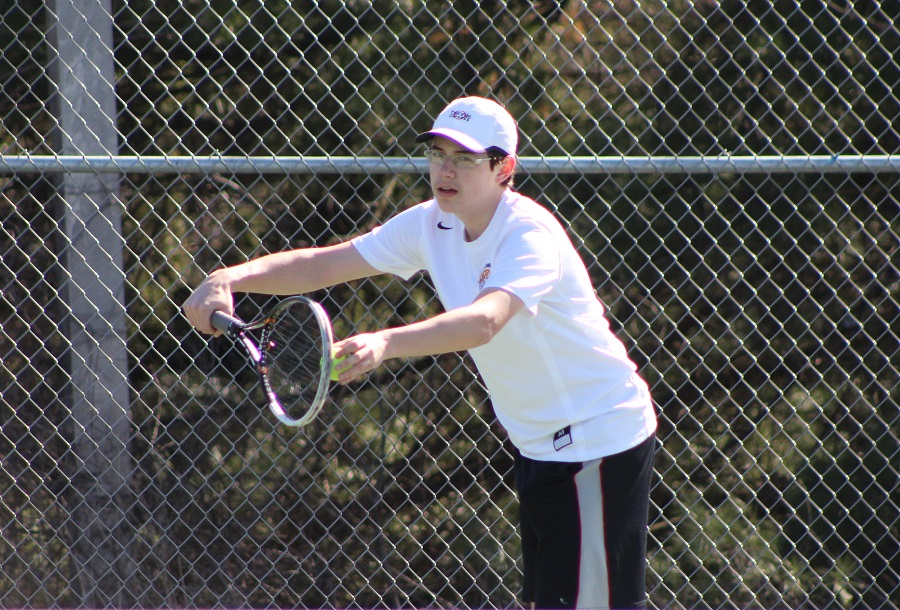 Tigers Beat Hampton 4-1 in Key Section Match
The Tigers Tennis Squad continued Section 2 play Tuesday afternoon at the Hampton Community Park and fashioned a 4-1 win over a good but shorthanded Talbot squad.
In their first outdoor match of the season, the Tigers' initial team point came from the racquet of senior Andrew Chuirazzi, at number three singles, as he defeated Sai Kondisetti in straight sets. Senior Reed Stasko and junior Rohan Cowlagi teamed up at number two doubles to take the second point over Alex Butch and Peter Fung, again in straight sets.  The number one doubles tandem of juniors Mark Chuirazzi and Jerry Huang clinched the match shortly thereafter by defeating Tim Miller and Peter Andrews.  The fourth team point came from senior Richard Hofmann, who beat Ted Donegan at number one singles.  With the team contest decided, the most intriguing match of the day unfolded at number two singles, where senior Ivan Voinov tangled with the Talbot's Abheet Badrinath. Voinov lost the first set in a tie-break, dominated a quick second set, and eventually fell in the 3rd set.  Both players unleashed an arsenal of outstanding shots in the process.
With the win, the Tigers raised their overall season record to 5-2, including a 5-0 mark in Section 2. Their next opponent is section rival Butler, Wednesday afternoon, starting at 3:30 PM on the Butler courts.
Match Summary – 04/10/2018
North Allegheny—4, Hampton Twp.–1  
Singles
#1 Richard Hofmann (NA) def. Ted Donegan (H) 6-3, 6-1
#2 Abheet Badrinath (H) def. Ivan Voinov (NA) 7-6 (3), 2-6, 6-3
#3  Andrew Chuirazzi (NA) def. Sai Kondisetti (MH) 6-0, 6-1
Doubles
#1 Mark Chuirazzi/Jerry Huang (NA)  def. Tim Miller/Peter Andrews (H) 6-0, 6-0
#2  Reed Stasko/Rohan Cowlagi (NA) def. Alex Butch/Peter Fung (H) 6-0, 6-4