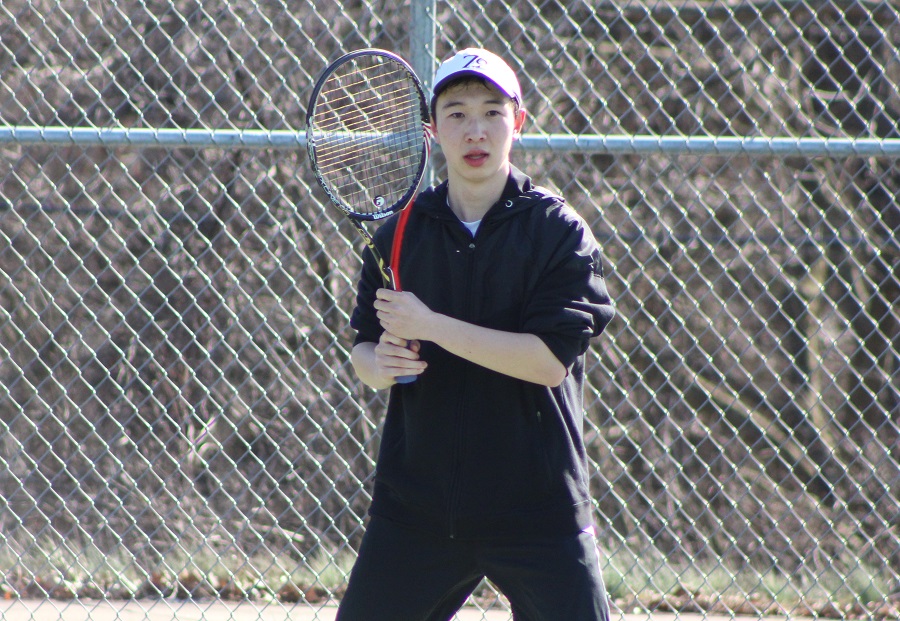 Tigers Beat USC 4-1 in WPIAL Quarterfinals
In a repeat of the previous week's exhibition contest, the Tigers took on the Panthers of Upper St. Clair again Monday afternoon, with much more at stake. In the WPIAL quarterfinals on the NASH courts, the Tigers prevailed again, this time by a 4-1 score.
Both squads used identical lineups from the earlier tilt and the results were nearly the same. Senior Richard Hofmann once more led the way at number one singles by sweeping Ross Petrone without losing a game.  Senior Ivan Voinov followed suit with a straight set victory over Harrison Chui at number two singles.  The clinching point came from juniors Mark Chuirazzi and Jerry Huang at number one doubles in defeating Josh Meyer and Shivam Patel, also in straight sets. The final tally came off the racquets of senior Reed Stasko and junior Rohan Cowlagi at number two doubles.  Following a loss in the first set, the Tigers bounced back to take the next two against Ayush Sharma and Nitesh Nagpal.  Rounding out play, senior Andrew Chuirazzi played a solid two sets in a tight match against St. Clair's number three, Stefan Cvetkovic.
With the win, the Tigers raised their overall season record to 10-2, and a 2-0 playoff mark. They will play Fox Chapel Tuesday in the AAA Team Semifinals, on the Shady Side Academy Courts, at 3:30 PM.
Match Summary – 04/23/2018
North Allegheny—4, Upper St. Clair–1  
Singles
#1 Richard Hofmann (NA) def. Ross Petrone (USC) 6-0, 6-0
#2  Ivan Voinov (NA) def. Harrison Chui (USC) 6-2, 6-0
#3  Stefan Cvetkovic (USC) def. Andrew Chuirazzi (NA) 6-4, 7-5
Doubles
#1 Mark Chuirazzi/Jerry Huang (NA)  def. Josh Meyer/Shivam Patel (USC) 6-1, 6-3
#2  Reed Stasko/Rohan Cowlagi (NA) def. Ayush Sharma/Nitesh Nagpal (USC) 4-6, 6-1, 6-2