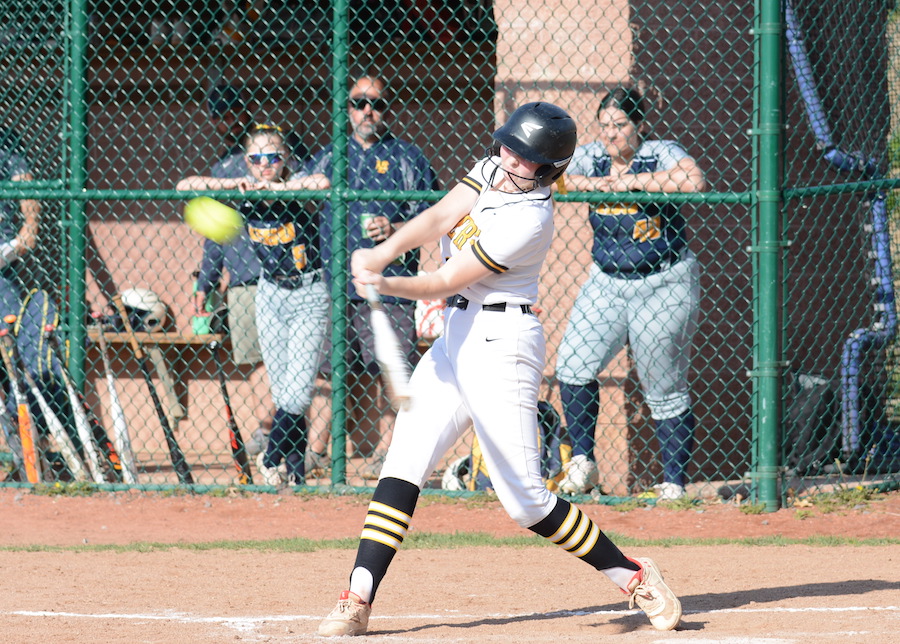 Tigers' Big Bats Batter Blue Devils, 12-1
North Allegheny softball won big against section opponent Mt. Lebanon in a contest that lasted five innings and finished with a score of 12-1.
Although scoreless in the first inning, the Tigers' offense came alive in the second. Senior Reagan Sheets got the inning started with a leadoff double to center field. Junior Caitlin Logan, senior Sadie Kelly, and junior Carlyn Vaupel each singled and put runs on the board for the Tigers. With a three-run lead and bases loaded, sophomore Sammy Plotsko hit a grand slam over the center field fence, increasing the score to 7-0.
However, the Tigers weren't finished. Junior Anne Melle kept the offense going with a double. Sheets followed up with her second double of the inning with Melle advancing to third. Sophomore McKenna Rowlands reached first on an error, scoring Melle. The Tigers ended the second inning with eight hits and a score of 8-0.
Both teams were held off the board until the top of the fifth inning. Kelly led off with a double and advanced to third base on a single by senior Meghan McDonough. McDonough advanced to second when Vaupel was hit by a pitch. Plotsko again found herself at the plate with bases loaded, and doubled to score both Kelly and McDonough. Melle followed suit with her second double of the game, scoring Vaupel and Plotsko and increasing the Tigers' lead to 12-0.
The Tigers tallied 15 total hits in five innings. Plotsko led the offense with six RBIs on the day. Melle went 2-for-3 with two RBIs, while Vaupel and Kelly each went 2-for-3 with one RBI apiece. McDonough finished the day 3-for-3 while Sheets finished 2-for-3.
Plotsko also pitched for the Tigers, allowing only five hits and one run over five innings, striking out nine.
The Tigers will host Canon-McMillan tomorrow. The game is scheduled to begin at 4:00pm.
Line Score - Softball vs. Mt. Lebanon - 04/20/2023
| Score by Innings | 1 | 2 | 3 | 4 | 5 | 6 | 7 | R | H | E |
| --- | --- | --- | --- | --- | --- | --- | --- | --- | --- | --- |
| North Allegheny | 0 | 8 | 0 | 0 | 4 | X | X | 12 | 15 | 1 |
| Mt. Lebanon | 0 | 0 | 0 | 0 | 1 | X | X | 1 | 5 | 2 |
WP - Sammy Plotsko (7-3) LP - Katherine Borza