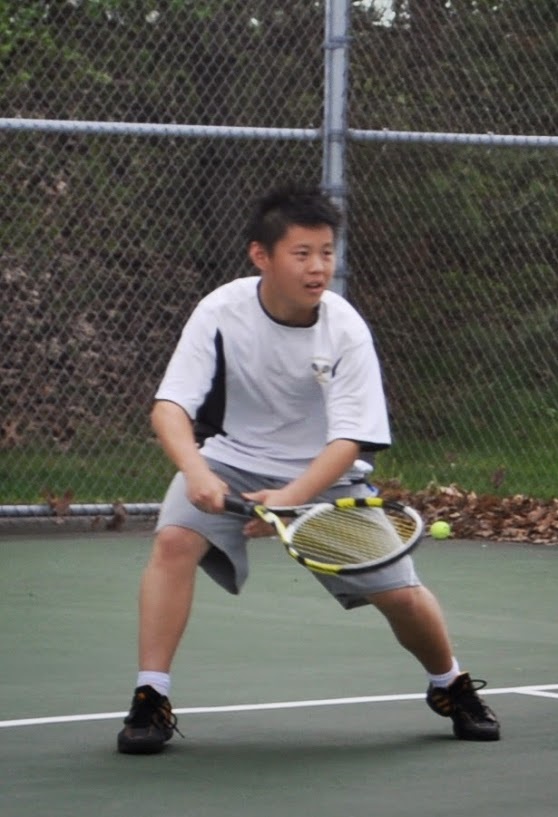 Tigers Blank Butler In Section Play
In a repeat performance at the Pure Athletex complex due to bone chilling temperatures, the Tigers' tennis squad defeated their friendly rivals from the north, Butler Area, 5-0 Wednesday afternoon.  The reliable trio of senior Kylie Isaacs, sophomore Jared Isaacs and Andrew Xu took their singles matches respectively at the 1st, 2nd and 3rd positions. 
Freshman Ryan Marczak and sophomore Eric Mi teamed up for the first time, at number two doubles, and walked away with a win.  Rounding out the scoring were junior Michael Helkowski and sophomore Apoorv Anand, playing number one doubles for the first time this season.  In an exciting and tight three set match, they defeated Butler's ace A.J. May and his partner Cam Sedwick. 
Moving to 5-0 on the young season and 4-0 in Section 2 play, the Tigers will tangle with the Talbots of Hampton Area Thursday afternoon.  The starting time for this home match on the NASH courts is scheduled for 3:30 PM.
Match Summary (3/26/14)
NORTH ALLEGHENY—5 Butler–0
Singles
#1  Kylie Isaacs (NA) def. Henry May (B) 6-1, 6-0
#2  Jared Isaacs (NA) def. Devin Fitz (B) 6-2, 6-0
#3  Andrew Xu  (NA) def. Brock Hinton (B) 6-0, 6-0
Doubles
#1  Michael Helkowski/Apoorv Anand (NA) def.  A.J. May/Cam Sedwick (B) 6-7, 6-3, 7-6
#2 Ryan Marczak/Eric Mi (NA) def. Troy Ball/Ethan Turner (B) 6-4, 6-1