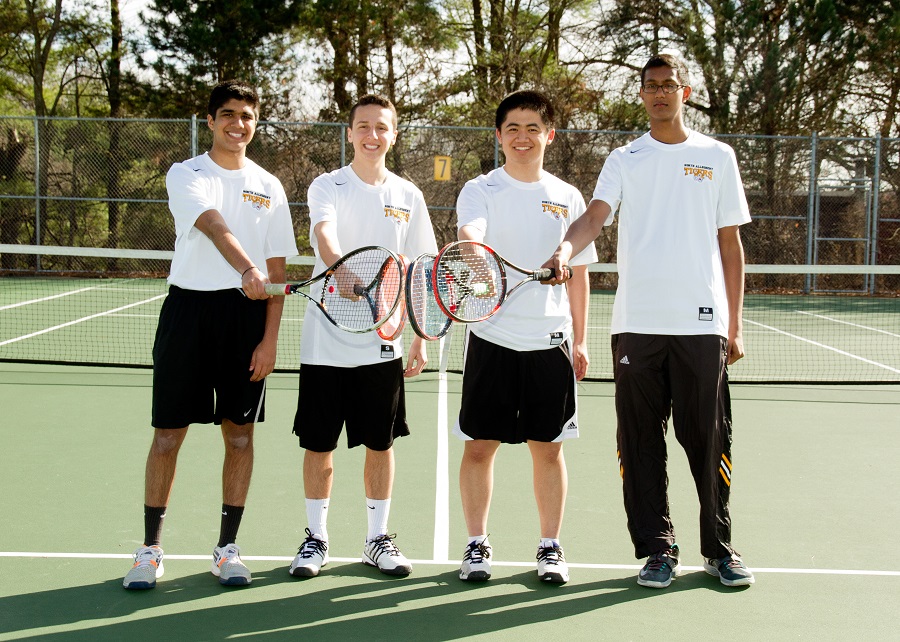 Tigers Breeze Past Brashear Bulls in First Round of PIAA Playoffs
The Tigers tennis squad continued its 2016 playoff journey with a first round PIAA match at the Club in Monroeville by sweeping District 8 representative, the Brashear Bulls, 5-0. The Tigers controlled the match from the start, with each contest ending in straight sets.  Singles winners were senior Jared Isaacs at number one along with sophomores Richard Hofmann and Ivan Voinov at two and three singles respectively.  The first doubles tandem was sophomore Andrew Chuirazzi paired with sophomore Ethan Schenk, while freshmen Mark Chuirazzi and Jerry Huang effectively managed the second slot.
Following completion of this first round win, the 18-2 Tigers will travel to Hershey, PA on Friday, the 20th.  There, they will go against Lower Merion, the defending AAA champion and first seed in the tournament.  Match time on Friday is scheduled for 8:00 AM.
Match Summary: PIAA AAA Team Championship, First Round (May 17)
NORTH ALLEGHENY—5 Brashear—0
Singles
#1 Jared Isaacs (NA) def. Desmond Taylor (B)  6-0, 6-0
#2  Richard Hofmann (NA) def. Aldo Ramirez (B) 6-0, 6-0
#3  Ivan Voinov (NA) def. Nick Vignone (B)) 6-0, 6-0
Doubles
#2 Andrew Chuirazzi/Ethan Schenk (NA) def. Dalton Link/Kevin Goodbread (B) 6-0, 6-0
#1 Jerry Huang/Ethan Schenk (NA) def. Joe Connor/Zach Ventura (B) 6-1, 6-1