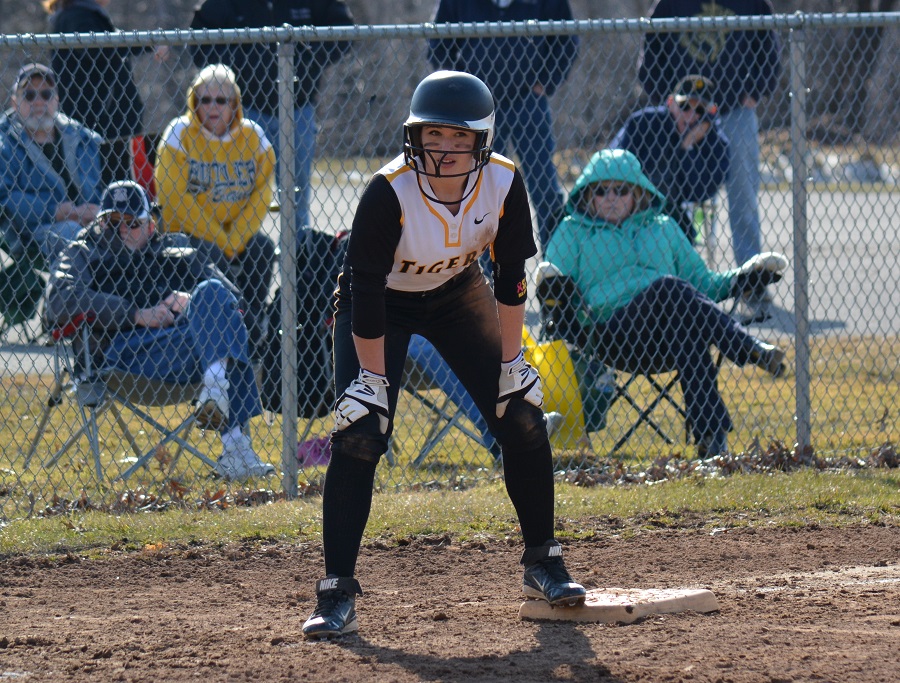 Tigers Chill Highlanders, 3-0
The North Allegheny Varsity Softball Team traveled to Baldwin on Monday evening and returned home with a 3-0 victory, a score that nearly matched the game temperatures.  The word "cool" was the operative word of the evening, as the Tigers began their journey to Baldwin by seeing the drink cooler launched from the bus bay onto Route 19 in front of NASH.  Following a hasty but thorough clean up (see photo below), the Tigers proceeded to the game site with everything and everyone on board.
In the contest, the Tigers prevailed 3-0 behind the two-hit pitching performance from Madi Beining, and RBI doubles from Logann Woodley, driving in courtesy runners Allie Green and Shannon Hamm; and Liz ("Happy Birthday") Scherer, driving in second baseman Emily Hogan. NA scored twice in the fourth and once in the fifth to gain the 3-0 advantage.
Baldwin made things interest in in the bottom of the seventh when they put the first two runners on base with a single and a Tiger error, but back-to-back stellar plays by third baseman Maddy DeRubbo and shortstop Lacey Hilderbrand forced two Highlander runners at third to end the threat, with Beining getting out number three on a fly ball to center fielder Laura Cotter.
The victory raises North Allegheny's record to 13-0 overall while the Tigers maintain their 10-0 mark in Section 3-AAAA play. Next up for NA is a home section contest vs. the Butler Golden Tornado at NASH Field on Tuesday evening at 6:00 PM.
NA Softball vs. Baldwin, 4-27-15
| Score by Innings | 1 | 2 | 3 | 4 | 5 | 6 | 7 | | R | H | E |
| --- | --- | --- | --- | --- | --- | --- | --- | --- | --- | --- | --- |
| North Allegheny | 0 | 0 | 0 | 2 | 1 | 0 | 0 | | 3 | 7 | 2 |
| Baldwin | 0 | 0 | 0 | 0 | 0 | 0 | 0 | | 0 | 2 | 0 |
WP - Madi Beining LP - Jaimie Schleicher