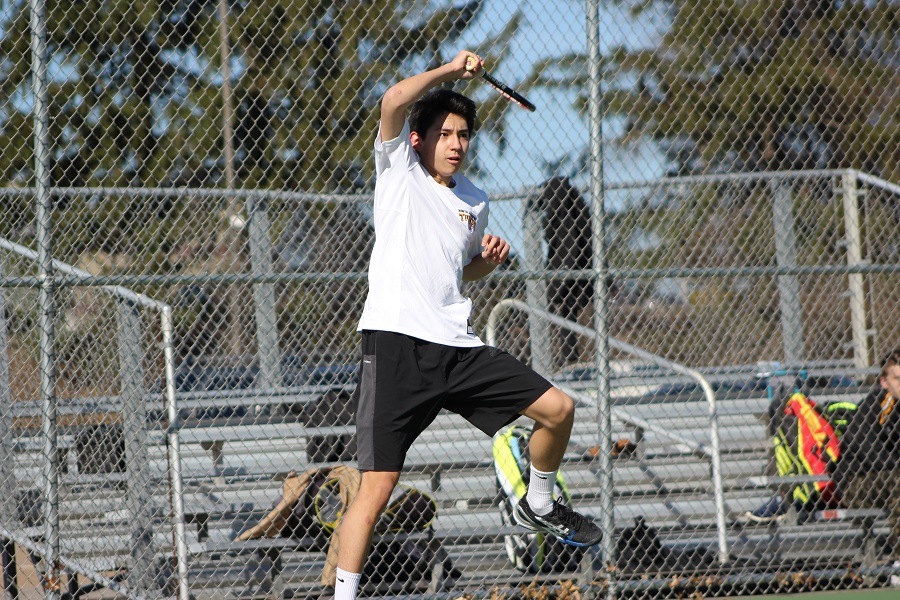 Tigers Clinch Section Title With Win Over North Hills
The Tigers traveled across the border into neighboring North Hills territory Wednesday afternoon and came across a very game squad coached by Matt Woffington. When the balls stopped bouncing, the Tigers clinched the Section 2 championship with a 4-1 win over their rivals, the Indians.
The first team point came via number three singles, where junior Reed Stasko defeated his opponent without losing a game.  The second NA point came from number one doubles as sophomores Mark Chuirazzi and Jerry Huang also swept their rivals. The clinching point was delivered by sophomores Soureesh Moturi and Rohan Cowlagi at number two doubles in two sets. Junior Ivan Voinov returned to his customary number two singles slot and custom prevailed as he also won in straight sets.  The final match saw North Hills' ace Martin Varys defeat North Allegheny's ace, junior Richard Hofmann, at number one singles.
With the win, the Tigers raised their record to 8-5 on the season and completed section play with an unblemished 7-0 mark. Following the short spring break, the Tigers host Howland High School (Ohio) in an exhibition on Monday, April 17. The starting time on the NASH courts is scheduled for 3:30 PM.
Match Summary – 04/12/2017
North Allegheny—4, North Hills–1
Singles
#1 Martin Varys (NH) def. Richard Hofmann (NA) 6-4, 6-2
#2 Ivan Voinov (NA) def. Connor McEwen (NH) 6-3, 6-2
#3  Reed Stasko  (NA) def. Matt Venturella (NH) 6-0, 6-0
Doubles
#1 Mark Chuirazzi/Jerry Huang (NA) def. Kyle Swartzbaugh/Brian Carnprobst (NH) 6-0, 6-0
#2  Soureesh Moturi/Rohan Cowlagi (NA) def. Nate Salopek/Brian Venturella (NH) 6-0, 6-1