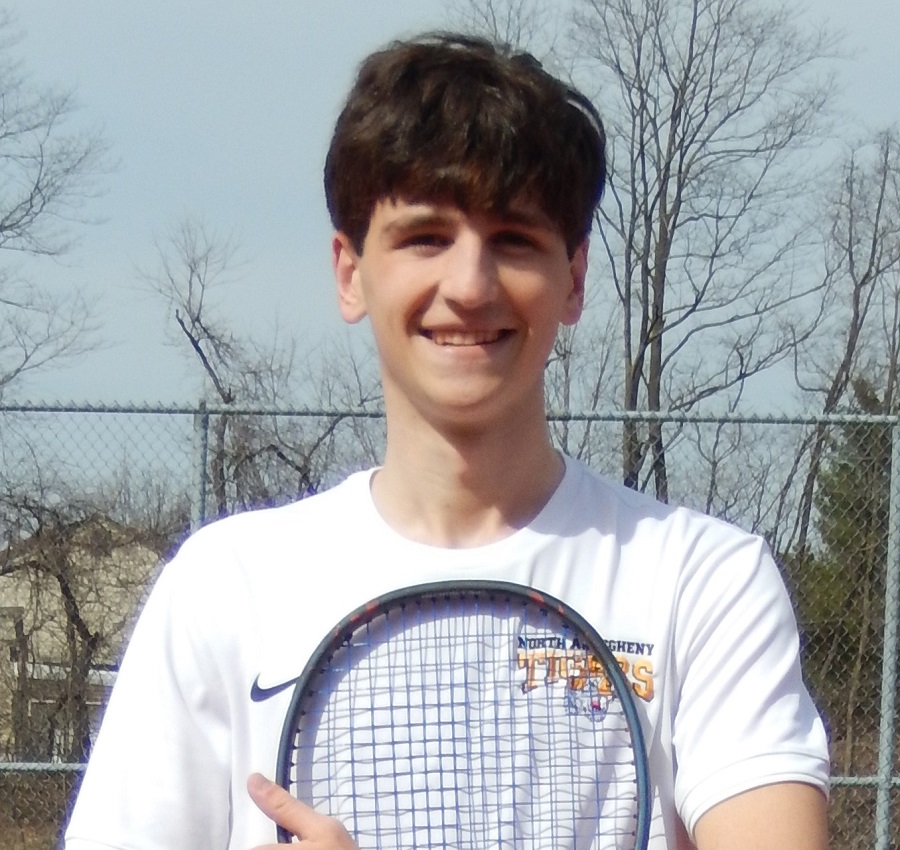 Tigers Continue Section Play With 4-1 Win Against Pine-Richland
The Tigers continued Section 2 play by traveling to Pine-Richland Wednesday afternoon to take on their neighboring rivals, the Rams.  Several matches were tight, but the Tigers came out on top by a strong 4-1 score.  Using the sunny but windy conditions to their advantage, the Tigers' opened the scoring off the racket of junior Shomik Telang at number two singles.  Telang defeated Ethan Chan in straight sets in quick fashion.    Following suit, sophomore Raj Ginde pitched in with the second point by defeating Braiden Smalley, also in straight set fashion.
Even with a 2-0 lead, three matches remained to be decided as the Tigers needed just one more point for the victory.  Pairing up for the first time, junior Milun Jain and senior Greg Phillips manned the number two doubles position and their play was both gritty and tenacious.  Strong enough, that is, to take the first set 7-5 against Kevin Lee and Yash Shah.  When the second reached the 6-6 mark the tie-break went into effect.  Here, Jain and Philips dominated by a 7-2 score to take their match and the overall contest for the Tigers.  Within minutes, the fourth Tigers' point was delivered by senior Chase Davidson who pulled off a remarkable comeback at number one singles.  Facing off against P-R's ace, Justin Bang, Davidson started the first set 2-0 but then fell in six straight games.  Using that as motivation he then dominated the rest of match, taking the second set 6-1 and closing out the third without losing a game.   Senior Krishna Naik and sophomore Sri Bellamkonda started slowly in their first set at number one doubles but rebounded nicely to take the second at 6-3.  The 3rd set was not kind to them, as the P-R duo fought back to take their match.
The Tigers return to action Friday afternoon with an exhibition match at home against Thomas Jefferson. Match time with the Jaguars is scheduled for 3:30 PM on the NASH courts.
Match Summary – 03/24/2021
North Allegheny  4    Pine-Richland  1
Singles
#1  Chase Davidson (NA) def. Justin Bang (P-R) 2-6, 6-1, 6-0
#2  Shomik Telang (NA) def. Ethan Chan (P-R) 6-3, 6-1
#3  Raj Ginde (NA) def. Braiden Smalley (P-R) 6-0, 6-3
Doubles
#1  Colby Ohlud/Ethan Silipo (P-R) def. Srivatsa Bellamkonda/Krishna Naik (NA) 6-4, 3-6, 6-3
#2  Milun Jain/Greg Phillips  (NA) def. Kevin Lee/Yash Shah (P-R) 7-5, 7-6 (2)