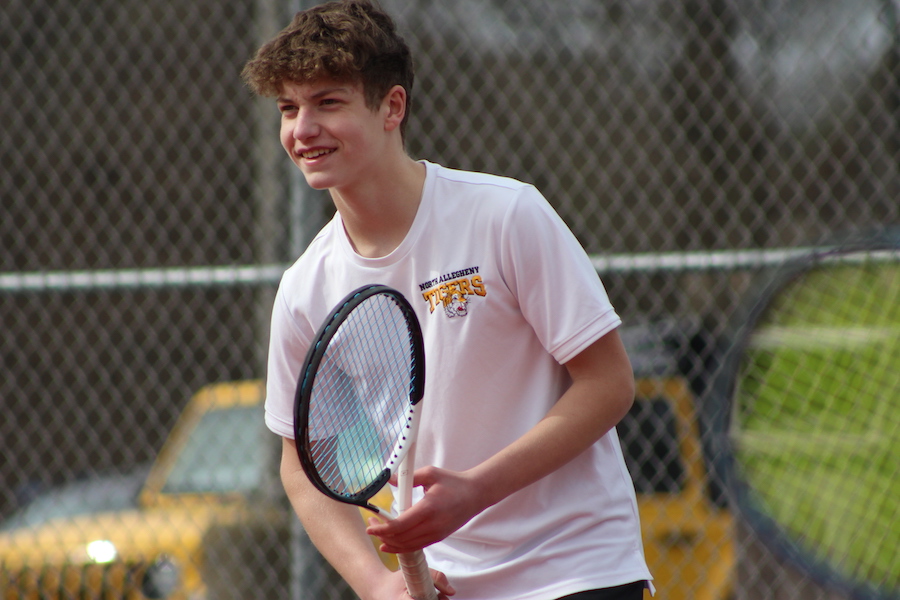 Tigers Continue Section Play With 5-0 Shutout of North Hills
The Tigers continued their match-ups with neighboring Section 2 rivals Thursday afternoon, and under perfect weather conditions defeated the North Hills Indians on the NASH Courts, 5-0.  The Tigers played a modified line-up while the Indians were without several starters.  Each contest was decided in straight sets as the Tigers pulled away early.  Senior Manas Kathir and freshman Evan Kaufman handled the duties at one and two singles, respectively.  Playing his first singles match of the year, junior Utkarsh Tiwari provided the clincher at three singles.  Rounding out the action were senior Raj Ginde and freshman Adhav Ramadas at two doubles.  Sophomore Sri Thirumala and freshman Matt Kampi closed out the scoring at 1st doubles.
With the win, the Tigers improve their overall record to 7-0 and move their section mark to 4-0.  The Tigers resume Section 2 play on Monday as they host the Seneca Valley Raiders on the NASH courts.  Match time is 3:30 PM.
Match Summary – 04/13/2023
North Allegheny 5, North Hills 0
Singles
#1 Manas Kathir (NA) def. Othmane Eljoufri (NH) 6-0, 6-0
#2  Evan Kaufman(NA) def. Riley Farrar (NH) 6-0, 6-0
#3  Utkarsh Tiwari (NA) def. Winston Siegle (NH) 6-0, 6-0
Doubles
#1 Matthew Kampi/Sri Thirumala (NA) def. Gavin Shomaker/Hayden Volbrecht (NH) 6-0, 6-0
#2 Raj Ginde/Adhav Ramadas (NA) def. Joey Saad/Mason Langhurst (NH) 6-0, 6-0