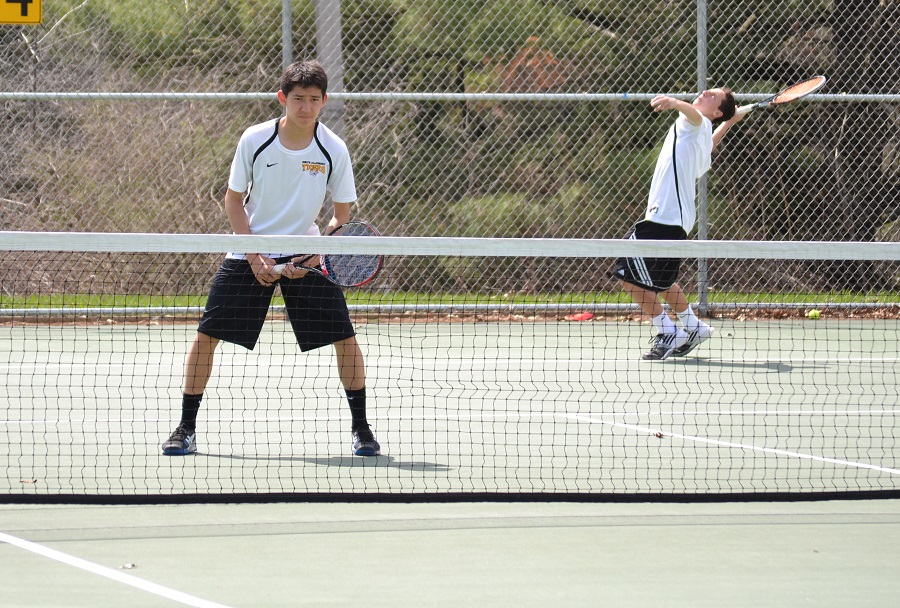 Tigers Continue Section Play With Win Over Seneca Valley
The Tigers continued Section 2 play Tuesday afternoon in Harmony, PA, on the Seneca Valley courts where they beat the Raiders by a 5-0 score. On a wonderful early spring day, the first Tiger point was recorded by freshmen Mark Chuirazzi and Jerry Huang at number two doubles, followed closely by sophomore Richard Hofmann at number two singles.   Senior Andrew Xu and sophomore Andrew Chuirazzi clinched the match at number one doubles while senior Jared Isaacs and sophomore Ivan Voinov wrapped up play at one and three singles respectively.
The Tigers improve to 4-2 on the season and 2-0 in Section 2 play.  Following a brief spring break they welcome the Moon Tigers to the NASH courts on Tuesday, the 29th at 3:30 PM, for more sectional competition.
Match Summary 3/22/2016
North Allegheny—5   Seneca Valley—0
Singles
#1 Jared Isaacs (NA) def. Jeremy O'Connor (SV) 6-0, 6-0
#2 Richard Hofmann (NA) def. Alex Garczynski (SV) 6-0, 6-0
#3 Ivan Voinov (NA) def. Jake Yankel (SV) 6-0, 6-1
Doubles
#1  Andrew Xu/Andrew Chuirazzi (NA) def. Luke Peffer/Corey Fetter (SV) 6-0, 6-1
#2  Mark Chuirazzi/Jerry Huang (NA) def. Ian Edgar/Stephen Vandrak (SV) 6-0, 6-0