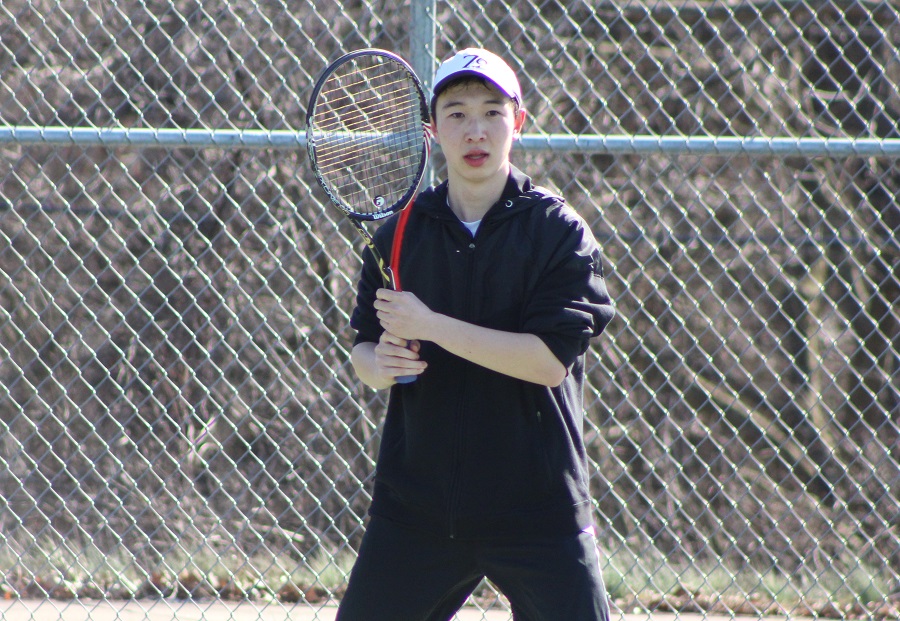 Tigers Continue Section Win Streak With 5-0 Sweep of Butler
The Tigers welcomed the Golden Tornado of Butler to the NASH courts Monday afternoon and played a modified line-up on the way to a 5-0 section win. Each of the wins came in straight sets as the Tigers faced off against the vastly improved Butler squad, led by Coach Dave Hartzell.
The first team point came via number two doubles, as senior Anmol Anand and junior Ethan Schenk swept their opponents without losing a game.  The second NA point came from number two singles where junior Andrew Chuirazzi took the measure of his opponent in straight sets.    The clinching point was provided by the racket of junior Reed Stasko, playing at number three singles instead of his customary second doubles slot.  In his first singles appearance of the year, Stasko also beat his opponent in two sets.  Sophomores Mark Chuirazzi and Jerry Huang played a strong opening set at first doubles but found themselves tangled in a see-saw affair in the second. After trading service breaks late in the set, the duo reached a tie-break where they prevailed, 8-6.  The final contest saw junior Ivan Voinov manning the number one singles slot and winning a tense match against Butler's talented ace, Matt McMaster, again in straight sets.
With the win, the Tigers raised their record to 7-5 on the season and 6-0 in section play. They travel to North Hills Wednesday afternoon to take on the Indians in the final Section 2 match of the season.  The starting time is scheduled for 3:30 PM.
Match Summary – 04/10/2017
North Allegheny—5, Butler–0
Singles
#1  Ivan Voinov (NA) def. Matt McMaster (B) 6-2, 6-3
#2  Andrew Chuirazzi (NA) def. Nate Errington (B) 6-2, 6-0
#3  Reed Stasko (NA) def. Elijah Errington (B) 6-2, 6-0
Doubles
#1 Mark Chuirazzi/Jerry Huang (NA) def. Trevor Bell/Tyler Bell (B) 6-0, 7-6 (6)
#2  Ethan Schenk/Anmol Anand (NA) def. Reed Krueger/Jake Zangas (B) 6-0, 6-0