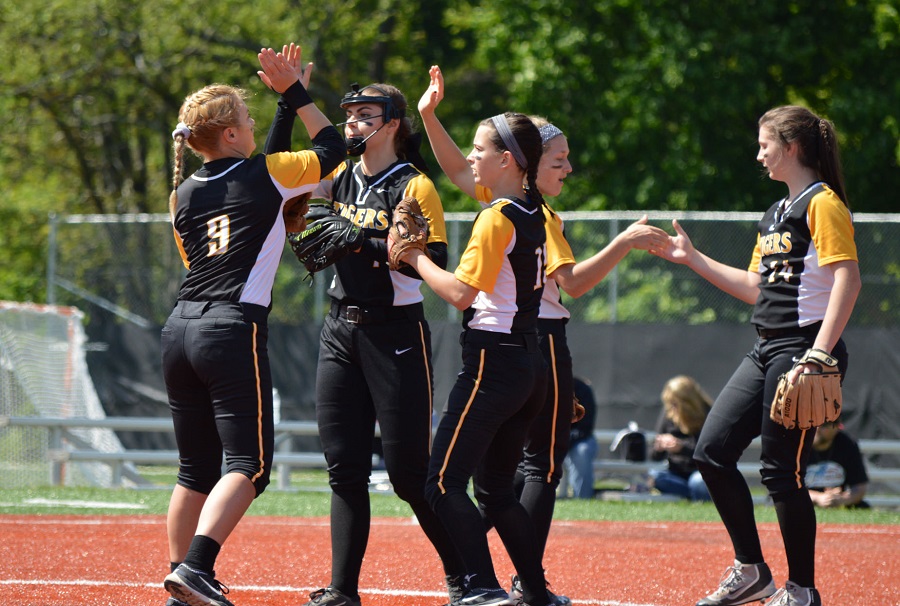 Tigers Corral Mustangs, 7-3
The North Allegheny Varsity Softball team opened its participation in the W.P.I.A.L. Championship Tournament with a 7-3 victory over a determined Plum Mustang team. The Mustangs played a solid game, but in the end fell to timely Tiger hitting to end their season.
The Tigers struck first in the bottom of the second when freshman shortstop Rachel Martindale singled, advanced to third on a bunt by senior third baseman Allie Green, and scored on a sacrifice fly be senior first baseman Mollie Benvenuto.
Plum came back to tie the game in the top of the fourth, but NA answered with two in the bottom of the fourth on a single by senior catcher Liz Scherer, a double by Martindale which enabled sophomore courtesy runner Rachael Giger to score all the way from first to home, and another sacrifice fly by Benvenuto.
The Tigers stretched the lead to 5-1 in the bottom of the fifth when freshman designated player Kristen Chomos led off with a walk and was advanced by a single by sophomore left fielder Anna Pilotta. Scherer then hit a ball to center field that was misplayed, and Martindale hit her second double to put the Tigers up by four. Plum did not go away, however, and tallied two in the top of the sixth on a walk and a long home run by catcher Gabrielle Fischetti to make it 5-3. As they did all day, NA responded in the bottom of the inning with a leadoff double by senior pinch hitter Laura Ryder followed by junior right fielder Maddy DeRubbo, who had doubled earlier in the game, reaching on an error with Ryder scoring on the play. Chomos walked, and a bunt by Pilotta set the stage for a sacrifice fly by Scherer that ended the scoring.
Senior Madi Beining picked up the win while Abby Froehlich took the loss. Beining had fourteen strikeouts and issued one walk in a six-hit effort. The Tigers await the date and location for their next opponent, the Big Macs from Canon McMillan in a quarter-final matchup. Stay with the NA Athletic Website for information as it becomes available.
Softball vs. Plum, 5-16-16
| Score by Innings | 1 | 2 | 3 | 4 | 5 | 6 | 7 | | R | H | E |
| --- | --- | --- | --- | --- | --- | --- | --- | --- | --- | --- | --- |
| Plum | 0 | 0 | 0 | 1 | 0 | 2 | 0 | | 3 | 6 | 3 |
| North Allegheny | 0 | 1 | 0 | 2 | 2 | 2 | X | | 7 | 9 | 0 |
WP - Madi Beining LP - Abby Froehlich